By Darrow & Stewart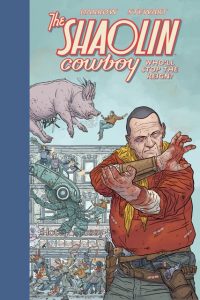 Publisher: Dark Horse
ISBN: 9781506703657
Considering the gargantuan amount of detail Geof Darrow puts into his Shaolin Cowboy pages it's a wonder that there's another Shaolin Cowboy book out so soon after the previous volume. But there is, and that makes us the lucky ones.
Having previously battled a mind-boggling horde of zombies that took him to the point of exhaustion, the Shaolin Cowboy now has other problems to deal with. Firstly there's his long-time foe in the form of a bitter crustacean, holed up in a white supremacist town with murder on his mind. And then there's a humungous pig with it's own tragedy linking directly back to the titular hero of the piece. Everyone's after revenge but, as we know, this cowboy doesn't go down easy.
The world of Shaolin Cowboy, some sort of near future post-collapse shambles where society has broken down for the worst but limps on with some semblance to the familiar, is a place where everyone seems to carry a gun, a grudge and a multitude of piercings and tattoos. Litter and detritus cover the ground and graffiti adorns every vertical surface. Dirty and dysfunctional, it's ruled by violence, weapons, sex and attitude, and whether Darrow is drawing the desert, the highway or the town it's quite plain this isn't a pleasant place to live. So when the Shaolin Cowboy is forced to defend himself against gun-toting forces you certainly feel everyone's going to get what's coming to them.
But the sheer joy of this book, and its predecessors, is the hyper-detailed illustration. No short-cuts or rushed panels here, just page after page of superbly realised indulgence depicting every moment of outrageous and outlandish fights, complicated street scenes and all manner of bizarre and sublime extras. You are most certainly getting more than your money's worth, with each page requiring your full attention to appreciate the scale of the detail. A standing ovation for Mr Darrow, please.
And if you liked that: Check out the other Shaolin Cowboy books available from Dark Horse