By Dix & Pollock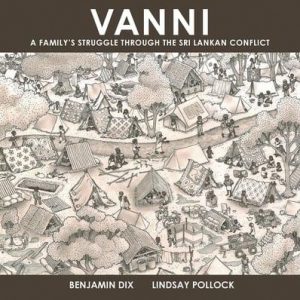 Publisher: New Internationalist
ISBN: 9780271084978
This is an excellent if harrowing story of innocents being caught up the war zone of northern Sri Lanka, based on survivor testimony. Starting with the Boxing Day tsunami we follow the impact on two families as their everyday existence is ripped apart.
But there's little opportunity to recover from this natural disaster as persecution of the Tamil population by both the government and the Tamil Tiger fighters decimates the remaining family members. Tens of thousands of innocent people begin a desperate journey to flee the violence that, now, is just a decade old.
It is a bleak and deeply frustrating story in one respect as we watch a group of people abandoned by the wider world and left to an awful fate, but on the other hand those that survived did so with immense bravery, fortitude and resilience that you can't help but be moved by it. For those that lost their lives and those that survived it is a story that cries out to be told.
The events throughout the book are unjust and heartbreaking again and again, but Lindsay Pollock's phenomenal art skills manage to soften the blow with his friendly illustrative style. Anything that approached a more grittier realism would be too hard to read. His illustrations are detailed without being cluttered and clearly benefit from his first-hand experience of seeing the aftermath. Meanwhile, Benjamin Dix's story and research give a voice to a people that so richly deserves one.
It'll grab you from the first few pages, where an innocent, casual conversation in a London taxi lays bear the world of difference between the driver and his passengers. Brilliantly and thoughtfully told throughout.
And if you liked that: It's perhaps an obvious suggestion, but if you've not read Maus then you really should.