By Fred Jefferies
Publisher: Book Guild Publishing
ISBN: 9781910878804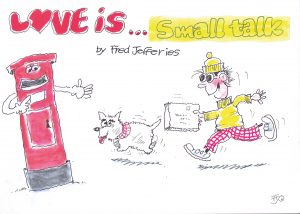 As a cartoonist, one of the most difficult attributes to lose must be sight, and yet that's something Fred Jefferies has had to deal with for over a decade now after being registered blind.
But not that that seems to have stopped him. Thanks to Blind Veterans UK Fred was given a special magnifying glass that makes enough of a difference to allow him to cartoon again. He's clearly making up for lost time, too, as this is his second book of cartoons in two years, which would be an achievement in itself for any cartoonist, let alone one struggling with his vision. His output gives pause for thought to cartoonists half his age.
Love Is… Small Talk takes us to the perspective of small children at play, using their imaginations and innocence to get through everyday scenarios, and a few of their own making. Accompanied by a talking dog called Teddy you could be forgiven for sensing a hint of Peanuts in the proceedings, although Fred is delivering something very much his own creation.
Readers will also notice that the lead character, Freddie, has to wear dark glasses, due to a sensitivity to bright lights; and perhaps nod sagely to the connection with the book's creator.
There's nothing untoward or vulgar, no cheeky-knowing winks or suggestive slants, just a sense of childhood innocence played out to its gentle conclusions with good humour.
As a body of work, considering what Fred has had to overcome to achieve it, it's quite extraordinary. Although Fred's sight is diminished, his sense of humour certainly isn't.
Love Is… Small Talk is available from the publisher at www.bookguild.co.uk and, naturally, from Amazon, as is Fred's previous title from last year.
And if you liked that: Then you should look out Fred's other recent title, Love Bites