By David & Maria Lapham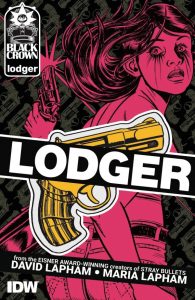 Publisher: Black Crown/IDW
ISBN: 978164054763
One of the greatest crime comics ever written is David and Maria Lapham's Stray Bullets. It's an absolute masterclass on how to use the comics medium to tell emotional, gritty and often shocking tales. Lodger could very well be a Stray Bullets side story, but instead, it's a neatly packaged, fast-paced tale of misplaced love and bitter revenge in its own right.
Ricky Toledo is an impressionable young teenage girl  from a baking hot town in Arizona. Her home life is pretty mundane, bordering on the miserable but that all changes when a lodger comes to rent a room. The lodger is not who he seems and before long her mother is murdered and it's her father that gets the blame. Only Ricky knows the true villain. Years later, aged eighteen, she's still hunting the serial killer lodger as he moves from small town to small town.
Gripping, dark and twisted, this is a story of obsession run amok. All the characters, to some degree, are flawed and there's no telling which way the cat and mouse game will end. Throughout you're kept on your toes by the disguises and disfigurement. They hide base desires, and through the visual storytelling, you find yourself attempting to stay one step ahead of the characters in working out who has got the upper hand. Think of it like Fargo on the printed page. 
It's crime noir excellence, and won't disappoint.
And if you liked that: Pick up a Stray Bullets collection. You won't regret it!