By Kirkman, Adlard, Gaudiano & Rathburn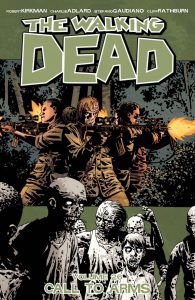 Publisher: Image
ISBN: 9781632159175
As I type this the new series of Walking Dead started on TV last night and we got to find out which long-time cast member got to meet Lucille up close and personal, courtesy of the menacing Negan. Meanwhile, over in the books (the collected editions of the ongoing comics) Negan's story takes centre ground again, so it seemed serendipitous to do another Walking Dead boom review.
The comic is some way ahead of the TV series that, on many occasions, has gone its own way, offered its own interpretation or has explored events with different and even non-comic characters, the most significant being Daryl. So it is a little like getting two bites at the cherry, and it by no means diminishes either.
The current threat in the books is from the Whisperers, a band of skin-wearing nomads that live amongst the undead, believing you only have the right to stand with them if you are hard, strong and self-reliant. Negan himself, for the past couple of years following the mercy of Rick, has been living in a cell in a basement in Alexandria. It's a situation that conflicts with Rick's ideals yet a threat he knows he must contain, and many a panel has been filled with the verbal sparring through the bars. But things aren't too rosy above ground either, as the Whisperers recent bold and deadly move showed, not to mention the residents' own problems with rubbing along with one another and operating some sort of justice system. As each action has its own reaction, knock-on effects see Rick and the troubled teenager Brandon meet on a quiet path, and although Rick extends the olive branch Brandon is still consumed by anger, bitterness and hatred. The resulting scuffle sets Brandon on a new course, so while Maggie prepares to lead a large group back to Hilltop, Brandon sneaks in to see Negan and strikes a deal.
The rest of the book is very much Negan-led, and he really is not a likeable character. Kirkman writes him with all the bluster and bombast of a cocksure gung-ho action star, the type that's always blowing people away without ever giving a second thought to consequences. However Negan never quite pulls it off, sounding brash, arrogant and slightly deranged, and it's not until his encounter with the Whisperers that we see a wobble of self-doubt and a suggestion of self-awareness. Kirkman proceeds to do another fine writing job, with the conclusion coming out of nowhere. Will the TV series ever get this far and repeat or adapt this sequence? Who knows, but it would be interesting to see.
The comic and its collected books have covered a lot of ground and lot of characters by now, and with the time between books I do find myself struggling to keep track of who exactly is who and where they're living. Kirkman and Adlard don't let anything stand still, which is of course key to the story's success, but I'm not going to condemn them for it. It should be celebrated because it's the driving force behind the Walking Dead's success. Nobody's safe, the world has changed, survive however you can.
And if you liked that: If you're coming to the comics this late then I'd suggest jumping right to the start point.