By Simon Chadwick
T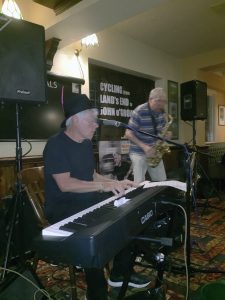 hat fine fellow Mike Hatchard, as already reported on this site, is cycling from Lands End to John O'Groats for Children In Need, and doing the whole thing while pulling a piano on a trailer behind his pushbike. If that were not an achievement in itself, he's also performing a gig most days too.
As Mike was going to be practically cycling past our door on the first leg of his route we offered, early on, to put him up for the night, and also to try to arrange a gig at the local pub, The Glen. All was arranged, and on the appointed date Mike arrived with Alan, his support driver for that day. We pushed Mr Hatchard in the general direction of the shower, fed them both, and then headed off to the pub.
Disconcertingly the football was on when we got there (Germany v France) but regardless of the distraction Mike set up, as did Alan who just so happened to be a saxophone virtuoso, so was Mike's support in more ways than one. By rights Mike should have been shattered, and although he said as much at times, you wouldn't have known it from looking at him. We learnt that one couple had travelled from Poole as they'd so enjoyed watching him the night before. At the allotted time the sound went off on the footie (but not the screen, but what's a pub supposed to do) and Mike began to play.
I've seen Mike perform a couple of time now and he'd have been forgiven for keeping this one simple, perhaps even toning it down somewhat, but there was none of that. His fingers danced across the keys, he belted out the songs, and he entertained with vim and vigour, accompanied by Alan's astounding sax playing. These early numbers were such an eclectic mix of old standards, jazz and humorous songs that it's difficult to pin it down, which was impressive enough, but then the football ended and Mike began his astounding gift of making up songs on the spot, first about how it felt to be German, then French, based on the Euro results, then taking topics from the audience that covered Michael Gove and halibut. Genius, and very funny. Without the 11-a-side being a distraction Mike seemed reinvigorated, and continued a lengthy and entertaining set as he took requests and the money bucket filled. Quite how he knows so many songs, which stretched from Nat King Cole to David Bowie's recent Where Are We Now?, I don't know, but they were effortlessly performed.
After two hours the set ended and a grateful audience showed their appreciation. A job well done.
Mike's playing at lots (and lots) of venues in the coming weeks. Do make the effort to go along and see him as this a monumental task that deserves recognition, and if you've not done so already make a donation vis his Just Giving page.