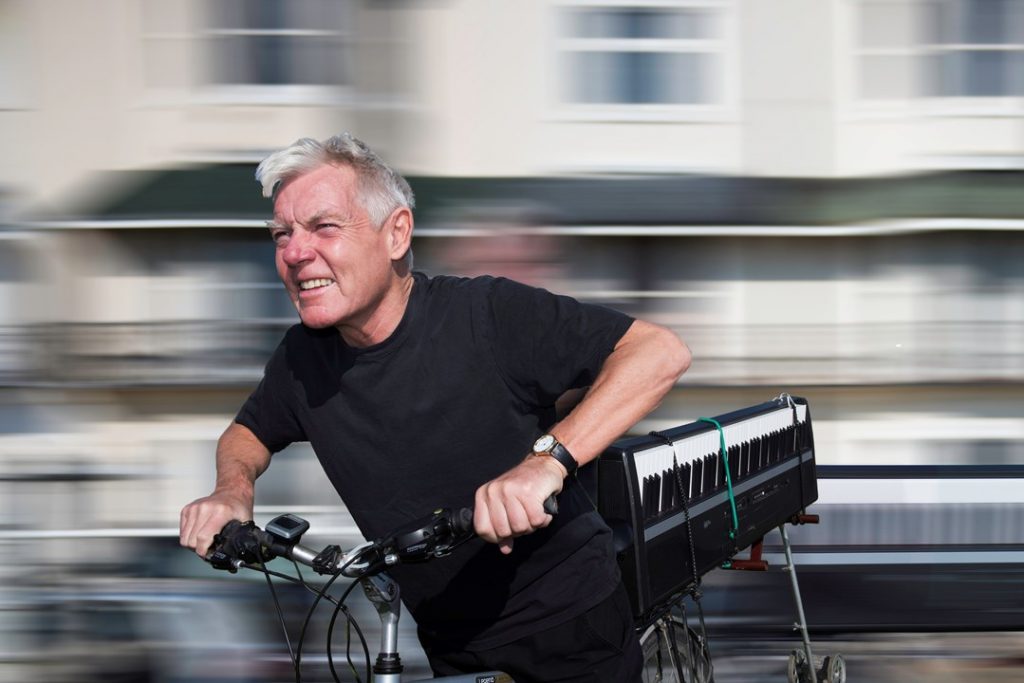 This summer to celebrate his sixtieth birthday, Cartoonists' Club member and veteran Edinburgh fringe performer Mike Hatchard is cycling from Land's End to John O'Groats…… towing a piano!
Not a baby grand obviously but a hefty electric one nevertheless. Performing concerts along the way (performing at the Edinburgh festival en route) he will be raising money for Children in Need.
Mike writes
"I am cycling from Land's End to John O'Groats to raise money for BBC Children in Need; being me, I am taking a very circuitous route, beginning by going along the south coast, making the overall journey about 1400 miles. But this time I am not cycling with a violin but an electric piano on a trailer.

I'm playing about 40 concerts, a lot of theatres but also pubs, churches, village halls, hotels and private houses, and –perhaps most importantly of all – I shall be doing ad hoc concerts in village greens and on beaches. Well, weather permitting…

The first concert is on 29th June (my 60th birthday) at the open air Minack Theatre in Cornwall. I'm hoping the whole thing will be quite an adventure, and the plan is to write a book of my experiences. I've often been told I should write a book about my rather unusual career. Tempting as it is I'm under no illusions that I'm  important enough to get one published if I did, but I've decided this Summer will give me the perfect excuse to do so. I envisage it being similar to the wonderful Bill Bryson's 'Notes from a Small Island' only from the perspective of a masochist on a charity bike ride/concert tour and not as well written, dipping into autobiography every now and again as well as describing my inevitable adventure."
Concert dates:
Wednesday 29th June Minack Theatre, Penzance 2pm 01736 810181
Thursday 30th June Falmouth Arts Centre 8pm 01326 219323
Friday 1st July St Austell Arts Centre 8pm 01726 72685

Saturday 2nd July St. Eustachias' Church Tavistock 8pm

Sunday 3rd July Broadhempston Church 01803 812426

Wednesday 6th July Swanage Mowlem Theatre 2.30pm

Thursday 7th July Wimborne Tivoli Theatre 2pm

Thursday The Glen Dibden Purlieu 9pm

8th July Littlehampton (tbc)

9th July Felpham Summer Fair 12 noon

10th July Ropetackle Arts Centre 11am 01273 464440

10th July Stables Theatre Hastings 7.30pm 01424 423221

11th July White Vines House, Rye 8pm 01797 224748

12th July Folkestone Tower Theatre 8pm 01303 223925

13th July Deal Astor Theatre 8pm 01304 370220

15th July Faversham Arden Theatre 8pm 01795 531600

17th July Walnut Tree, Yalding 4pm 01622 814266

18th July Eel Pie Island Rowing Club with the Duncan Lamonts (by invitation only)

20th Bletchley Eight Belles

21st Cardigan Arms Northampton

24th July Dorothea Mitchell Hall Claverdon

29th Liverpool Tickle the Ivories festival (day time)

30th July Isle of Man

2nd August Staveley Roundhouse

8th/20th August Acoustic Music Centre, Edinburgh Festival 0131 226 0000 concerts every day assorted times

26th August Melness Community Centre Talmine (near John O'groats)
You can donate at Mike's Fundraising page and follow his progress on his facebook page
Good luck Mike!