By Franquin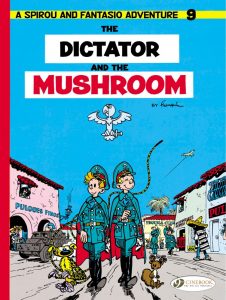 Publisher: Cinebook
ISBN: 9781849182676
The Marsupilami has been living on the estate of the Count of Champignac, and although it gives him plenty of space to roam, it isn't the tropical rainforests of Palombia. When Spirou and Fantasio arrive to visit they discover that the Count has developed an amazing new technology from a rare mushroom that turns rigid metal into something soft and spongey. Ever curious, the Marsupilami gets ahold of it and to everyone's horror runs amok in the nearby town softening everything from bicycles to drain covers. It's agreed that it's now or never to re-home the Marsupilami, so Spirou and Fantasio's first stop is the zoo where he once resided. However, the zoo has fallen on hard times and has had to close, but a chance meeting with its director encourages them to bite the bullet and return their arboreal friend to Palombia.
After a difficult journey they arrive in the country only to find a heavy military presence. The country is under the control of a new leader, and it's someone the two friends have come across before, so Spirou and Fantasio are forced to compromise their convictions to stand a chance of ever leaving the country again. Fortunately they have help, and the hope that word can get to the Count so they can utilise his latest invention.
I love the way Cinebook are now alternating the newer and older adventures of Spirou and Fantasio, meaning we get the best of both worlds. This book, by the master cartoonist Franquin, is crispy fresh and just as funny as when it first saw print sixty years ago, and I'm particularly pleased that we're getting more Marsupilami into the bargain. Franquin's story switches from madcap chases to comic peril, allowing him to show his cartooning off to best effect.
There's been very little opportunity to read an English translation so I highly recommend you grab these with both hands and devour them with relish.
And if you liked that: Look out for volume 10