By Aymond & Van Hamme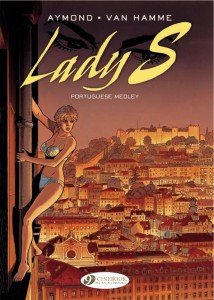 Publisher: Cinebook
ISBN: 9781849182225
The end of the previous volume saw Suzan/Shania being expelled from the United States, but fortunately she has the backing of Orion and his clandestine operatives at her back and appears to have found a more settled existence working as a translator at the European parliament. Flat-sharing with the insatiable Kadija, she appears to have left her more difficult past behind, or at least that's what it seems to the outside world.
Kadija's boyfriend, Mohcine, tempts Shania out on a double-date with Mohcine's friend Farik, but an uncomfortable moment in a bar sees Farik slip a CD into Shania's bag for fear of it being found on himself. That fear was premature, but now Shania unknowingly has the CD. What's more, Orion believes they're succeeding in bringing a major terrorist out of the shadows as he thinks Farik is in fact Kader, an Al Qaeda operative, but neither he nor Shania realise the extent or exact nature of the plot.
But before they can get to grips with it, the CIA arrive on Shania's doorstep and whisk her away to Lisbon where a man claiming to be her father has escaped from the Russians. Still unaware that she's carrying the CD, the plotters end up following her into Portugal to a place where ideologies and cultures will clash.
Van Hamme has created a very different  kind of hero in Shania in that she's not pumped full of testosterone and attitude but instead survives on her wits and attempting to do the right thing. She's not trained for the job, but her natural instincts and quick thinking help her to achieve the goals others have set. Espionage and international tensions always make for a good thriller in the right hands, and Van Hamme and Aymond are just those people to being this intelligent and fast-paced series to life, offering a contemporary slant on the thriller genre. Also, the cover alone gives you an idea of the love and attention that goes into creating this book, with its glorious depiction of a Lisbon hillside, and there's plenty more of that between the covers.
And if you liked that: Book 6 is out soon