By Tom Gauld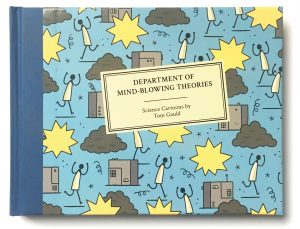 Publisher: Canongate
ISBN: 9781786898050
Tom Gauld returns with an entire book of just science-based cartoons, all previously published in New Scientist. As Neil Gaiman says, Tom Gauld is funny in a way that makes you feel smarter. This is largely down to Gauld's ability to tackle pretty much any topic and spin a joke from it, confident that at least some of the audience will appreciate the reference. Even if you don't, the gag works just fine.
Often it's a very simple idea that gives the most pleasure, such as a scientist declaring "Hooray! My miniaturization pill is a complete success! Now I'll just swallow the antidote pill and write up my findings." This all said in the shadow of the antidote pill. 
Funding, collating data, equipment, the breadth of scientific fields, angst, despair, and failure all feature. 
He clearly enjoys science, and that comes across in every cartoon. I'd venture to guess that in labs across the English-speaking world there are now more Tom Gauld cartoons pinned to walls than Far Side ones. 
And if you liked that: Get Tom's 'You're Just Jealous Of My Jetpack'.