By Mézières and Christin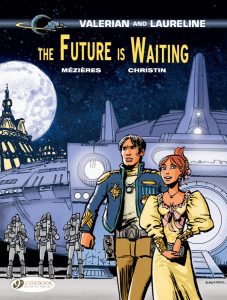 Publisher: Cinebook
ISBN: 9781849184359
What? Hang about… Didn't we just finish this series? Well, it looks like I spoke too soon in my previous review. Turns out there are two volumes of short stories, not one, but you shan't find me complaining.
As with Memories From The Futures, these vignettes aim to tell brief tales whilst expanding upon established characters and events that we've encountered across the series. A biography of the Schniarfer, a run-in with the Caliph, and the child versions of the titular heroes visiting Scotland are but three.
As always, Mézières and Christin have some fun with timelines, absurd aliens and bamboozling technology. But, at its heart, there's a driven narrative and oodles of creativity. 
Perhaps the best way to describe these tales is to look towards a modern cinema trend. These are the post-credits scenes. Snapshots. Mini-adventures. Juicy extras. A thank you to the reader for staying for the journey. It's also a great way to dip back in and refresh your mind – so much has happened after all. And that may even inspire you to reach for volume 1 and begin all over again…
And If You Liked That: There's a companion book, endorsed by Mézières and Christin but written and illustrated by new creators. You might like to look that one up.