By Leo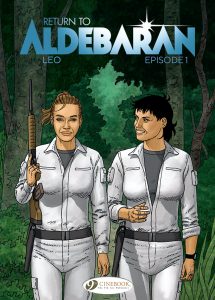 Publisher: Cinebook
ISBN: 9781849184618
Now here's a very pleasant surprise indeed. A new Aldebaran series by Leo! It's the fifth series in the saga to date and does the nifty trick of tying together the various plot threads and characters into a unified story. 
Kim has been nominated by the alien species as their choice for official first contact between themselves and humans. This is an outcome that has made Kim instantly famous on both Aldebaran and Earth. The aim is to jointly investigate the strange floating cube that appears to be a doorway to yet another world, but what lies beyond is proving to be a mystery. 
But not everyone's happy with the appointment of Kim to this lofty and important position. Some of the political elite believe it should be them and others simply don't trust the intentions of these aliens, not to mention that one of the alien race has fathered a child with Kim. It's a stressful time for Kim, but one that she's willing to endure until attempts are made on her life. Thankfully Marie and Alex (from the Survivors series) are in the crowd and Marie twice foils the assassination attempts. However, this is not before Kim's daughter is seriously injured. Kim must reassess her position, and that means making the offer of employment to Marie and Alex to assist her in her task. In doing so it comfortably brings together the two strands of the series. But there's still the question of the cube, its purpose and where it leads, and that quickly presents its own set of problems.
There's a lot to cover in this book, what with setting up the plot to drive the story forward, refresh the reader with events from the past, and give the meeting of Kim and Marie the time and space it needs to make their bonding meaningful. Consequently, it's a thicker book than previous volumes so plenty to get stuck into (and not enough strange alien life, but that'll come, I'm sure). Initially, I couldn't help but feel that the petty manoeuvring of those that felt slighted by Kim's appointment was overcooked when compared to similar stories of first contact. However, having witnessed the recent political shenanigans across the globe and the lengths people in power will go to to protect their own self-interests it's probably a more accurate representation of reality than other tales focusing on a similar event. The effect is to create a palpable sense of frustration and even desperation on Kim's part as she's swept along on a journey that she has little control of.
As always exquisitely drawn and presented, this is a very welcome addition to the ongoing story.
And if you liked that: Episode 2 is on the way