By Mark Warby
Published in Issue 535 of The Jester magazine, October 2019
Eighty years ago, on 3 September 1939, England once again found itself at war with Germany. A little under six weeks later, on 13 October, the Daily Herald announced a new cartoon series by Gilbert Wilkinson, titled 'What A War!' They revealed details of six of the characters who would feature in the new series – "you are going to meet them, like them – and laugh at them" – and declared that Gilbert Wilkinson had never before "devised a more rollicking entertainment".
The following day, 14 October 1939, barmaid Ruby Rumour and her 'regular' Panicky Perce made their debut, in the very first 'What A War' cartoon. Next up were Able Seamen Lovem and Leavem, who made their first appearance on 16 October, and on 17 October readers were introduced to the "fervent but depressed" German waiters, Swastik and Siegfried.
Two months later, on 18 December 1939, Gertie Gestapo (the synthetic spy), a "well-dressed young woman with immaculate blonde coiffure and swastika-shaped beauty spot on her cheek", joined the cast. Sent to Britain by the Fuhrer to observe daily life in Britain and report valuable information back to Germany, Gertie's reports formed the captions to the cartoons in which she featured.
Gilbert Wilkinson's cast of characters continued to grow. Four days before Christmas 1939, Horace the Horoscope Fan, a young, "melancholy warrior" with an obsession for reading horoscopes, was added, and during 1940 the Little Nazi, a young child with "certain recognisable characteristics" who was a "product of a certain European country controlled by the National Sozialistiche Deutsche Arbeiterpartei" (more commonly known as the Nazi Party) made his debut. Then, on 11 January 1941, it was the turn of Herr Satz, a "loyal follower of the Fuhrer and member of the National Sozialistiche Deutsche Arbeiterpartei" and two days later munitions factory workers Mae and June – "one's pretty, one's comfortable" – were introduced to Daily Herald readers. A sensitive Bohemian artist called Paul, who was keen to 'do his bit' was another addition.
The 'What A War!' series proved so popular that, in December 1942, a compilation of 250 of Gilbert Wilkinson's cartoons was published, priced 1 shilling. A second volume followed in June 1944.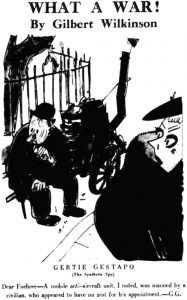 On 7 May 1945 – the day before VE Day – after more than 1,700 cartoons, the Daily Herald published the last of Gilbert Wilkinson's 'What A War!' drawings.
Four days later, on 11 May 1945, as the impact of peace was still sinking in across Britain, he began a new series in the Daily Herald, under the title 'What A Life!'
Having "brought smiles to the darkest days" of the war, he now "found the funny sides of demobilisation, rationing, the National Health scheme, holidays at home, nylons, Russian footballers, whalemeat, the New Look and a hundred other post-war phenomena."
This "golden, good humour" would continue for 20 years
– outliving the newspaper itself (when the Daily Herald ceased publication in 1964 and was relaunched as The Sun, 'What A Life!' transferred to the new paper).
After less than a year in its new home, however, 'What A Life' came to an unexpected end, with the death of its creator.
Gilbert Wilkinson died at his home in Pinner on 9 June 1965, following a heart attack. He was 73. His last cartoon, drawn while he was in hospital, was published on 11 June 1965.
Gilbert Wilkinson was born in Liverpool on 9 October 1891. He studied at Liverpool Art School for a year, then moved with his family to London and studied at the Bolt Court Art School, Fleet Street, and in the evenings at Camberwell and the City & Guilds Art School.
At 16 he was apprenticed to colour printers Nathaniel Lloyd, and by 1912 he was earning £2 a week drawing showcards.
But he had also started to submit cartoons to newspapers and magazines. He had his first drawings accepted by the Morning Leader, and later deputized for their political cartoonist, Arthur Moreland, who was a great influence on his work. Wilkinson also began contributing cartoons to other publications including the London Opinion, published by Odhams Press.
From 1915, Wilkinson served with the London Scottish Regiment, reaching the rank of lance-corporal. He continued to draw cartoons, his work appearing in the Passing Show in 1918.
At the end of the war he renewed his association with the London Opinion, also contributing to Punch, the London Mail and Passing Show. In 1921 he began drawing his legendary colour covers for the Passing Show, continuing until it merged with Illustrated in 1939. Wilkinson also contributed to Strand Magazine (illustrating, amongst others, Jeeves stories by PG Wodehouse and Father Brown by GK Chesterton), Good Housekeeping, Pan and John Bull.