By Wilkie Martin, illustrated by Ade Gorst

Publisher: Witcherley Books
ISBN: 9781910302088
CCGB member Ade Gorst has illustrated a short tome of silly verse by author Wilkie Martin.
It's a selection of daft poems based around fictitious relations and the perils they encounter, punctuated by Ade's humerous scribblings. The witty word play and gallows humour certainly raises a smile, so if you're a fan of the darkly comic then you're going to get a kick out of this.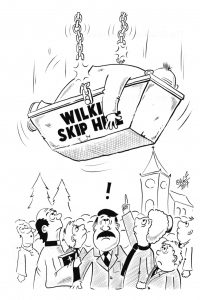 And if you liked that: Author Wilkie Martin is the writer of the Inspector Hobbes comic fantasy novels.