By Turk & de Groot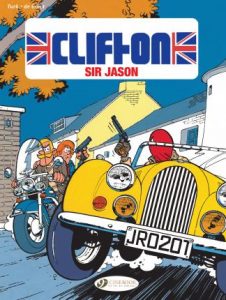 Publisher: Cinebook
ISBN: 9781849184076
What-ho! Absolutely splendid news old chap. There's a new Clifton out. Don't know where the blighter's been these past few months but it's a welcome return to the old boy and make no mistake.
Retired from active service, Clifton's taking life easy in Dormhouse, a sleepy little village with a mock-tudor thatched pub that's serving as a home from home while he spends the days fishing. Unfortunately that peace is swiftly shattered, or dampened down, when Clifton's old boss, Captain Twincam, pulls him back in to mentor a young spy who just can't seem to make it past the finishing post in his training. Young Sir Jason excels at every aspect of the spy game, but when it comes to getting his hands dirty in the midst of the action he freezes, so Twincam has decided that Clifton's the man to get the job done. All sounds quite straight forward, but almost instantly the scale of the problem is revealed when the pair stumble upon a bank robbery. And that's just for starters.
Clifton's a quirky mix of over-the-top English stereotypes (warm beer, cups of tea and a stiff upper lip) coupled with a good old-fashioned mystery. Like its sister publication, The Bluecoats, the cartoon-style illustration hides, at times, a more serious undertone beneath the humour and high-jinks, lifting the story above the status of a twee tale to give it some body. That said, it doesn't take itself too seriously and the gags come thick and fast.
Artist Bob de Groot keeps the setting firmly rooted in 60s' Britain, with bowler hats, beer tankards and police uniforms sealing the deal, but it's his uncanny knack at drawing just about any vehicle thrown at him in the script (and no doubt a few he just fancies fitting in) that really give the pages a sense of the period. He has a remarkable knack of capturing the essence of the vehicles with the minimum of lines, and he's at his absolute best when it's some form of chase, swapping angles and perspective with ease.
You don't need to have read the other Clifton books to enjoy this one, but there's a pretty good chance you will anyway once you put this one down. Now, tea anyone?
And if you liked that: Check out more Clifton books at www.cinebook.com