By Ribbon & Fish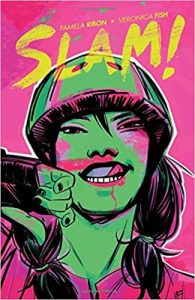 Publisher: Boom! Box
ISBN: 9781684150045
As I'm pretty dreadful about showing any interest whatsoever when it comes to sport I thought that Slam! would leave me utterly cold, but what the heck, I'd give it a whirl. It's the story of female roller derby, focusing on a handful of individuals and more specifically Jennifer and Maisie who try out the sport at the same time and swiftly become good friends. Expecting this to carry forth to playing together, they're surprised to learn they'll be on different derby teams, and so competing against one-another.
Their friendship survives this initial split, but as their personal lives become more complicated and the rivalry increases the strain begins to show. But if there's anything you learn from this particularly brutal sport, if you get knocked down you pick yourself up again, and you carry on, and it's this attitude that carries the two young women through.
So I know zilch about roller derby, but this book also felt like a crash course into the sport, covering plays, the lingo and busted bones to the point that I soon felt familiar with the women's passion. Ribbon and Fish do a brilliant job of fleshing out their characters, which enables you to get under the skin of them and their sport, and just why they put themselves through what they do.
It's always a pleasure to take a chance on a book and be surprised by what you find. This is one of the those books.
And if you liked that: Keep 'em open for Slam! The Next Jam.