By Dufaux & Jérémy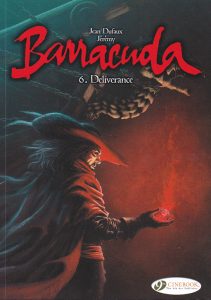 Publisher: Cinebook
ISBN: 9781849183543
The series draws to its conclusion with this sixth and final book, and it's got everything going on. Sea battles, deception, ambush, murder, and a lot of bloodshed, but then again none of the protagonists play particularly nicely with others, so all of that was to be expected. At the opening of the book the Spanish appear to have the upper hand and the pirate brethren are on the back foot… And then the fighting starts.
The series, like Pirates of the Caribbean, isn't afraid to have a supernatural element, in this case the Kashar Diamond, and many of the characters have been larger than life. It works within its own private reality, a fantasy version of buccaneers, and it's able to work because of Jérémy's extraordinary capabilities as an artist to place it within a recognisable and believable setting, creating a detailed painted vision of Dufaux's script that sits you right in amongst the salty breeze.
Take the first handful of pages of this volume for example. Jérémy tackles exteriors of pirate ships amongst the sea fog, resulting in broadsides and a boarding with multiple characters including heaps of Spanish soldiers. One twin panelled page, with the minimum of words, depicts the ferocity and atrocity of battle from two extreme angles up in the rigging – an astounding piece of work.
Barracuda carves out its own niche in the pirate genre, relying largely on a cast of despicable characters and reprobates, and has a lot of fun with the clichés and expectations along the way. It certainly isn't what I thought it was going to be when I picked up the first book, but then again isn't that exactly what we should hope for – something that challenges and surprises us with each turn of the page.
And if you liked that: Take a look at Lament Of The Lost Moors, also available from cinebook.com