By Gazzotti & Vehlmann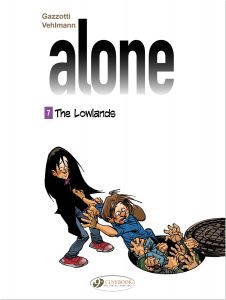 Publisher: Cinebook
ISBN: 9781849183475
This award-winning series for kids continues its fine run, skirting the terrible and difficult situations faced by a bunch of children finding themselves alone in an empty city. Its success and its charm come from the creators' firm grip on their characters, keeping their actions and reactions believable and consistent with those of real children. By this stage in the tale the true nature of their situation is becoming apparent, but this revelation has arrived hand-in-hand with the strange physical reaction of the city. Trapped within what appears to be a vast sinking section of roads and buildings the children, whose numbers have been swollen by the banding together of other groups, seek to find a way to scale the vast edifice before them, but the city continues to throw up further complications in the form of failing machinery and what appears to be the possession of some of the children's minds.
Alone continues to strive for that difficult balance between genuine peril and not alienating its audience, a feat it's managed to maintain throughout its run to date. Part of its success is down to the quirk of its narrative that deals with death, but even so none of the characters are casual about it and are genuinely afraid about the threats around them. But what really drives the tale forward is the excellent characterisations of the core children, not least Leila and Dodzi who repeatedly do their best in the face of adversity, never gung-ho, but compelled to do the right thing for the benefit of their group. There's a strong lesson there about kindness and altruism that would benefit any reader.
Arguably this book isn't even aimed at me, but I think it's one of the finest reads available at the moment, and even my children, the core audience when the series began, still battle to be first to read the latest instalment (the eldest is 17). It's testament to the quality of the storytelling and the strength of the characters, and also to the deepening mystery of just exactly what is going on.
And if you liked that: Book 8 is coming soon