By Sonny Liew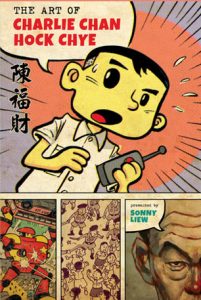 Publisher: Pantheon
ISBN: 9781101870693
The Art Of Charlie Chan Hock Chye is, without a doubt, a book that takes you by surprise, and I'm wondering just how often a graphic novel can genuinely claim to have that effect. Presented as a biography of one of Singapore's most treasured cartoonists, now in his 70s and still drawing, this is an ingenious sleight of hand that charts the history of Singapore from its last days in colonial hands to the metropolis of today. It is a book that doesn't shirk from the politics and personalities that shaped the island state, cleverly commenting on their impact through the lens of Charlie Chan Hock Chye's work.
Chan's first published work at 16, in a small press magazine, comments on the brutal crackdown on students by the British that Chan witnessed. Using a cartoon strip that wouldn't look out of place in a British comic weekly, Chan creates a small boy and his giant robot that obeys his commands if spoken to in Chinese. They subsequently step in to prevent the riot and give the British pause for thought.
Under British rule, there were plentiful comics from the UK available amongst the racks of the street-sellers, one of which, Eagle, inspires Chan to mimic its art style in a creation of his own. Invariably the title begins as a homage but swiftly becomes a thinly veiled criticism of the way the country is heading. It's a pattern that repeats, with Chan using the likes of Pogo, Spider-man and Mad to continue the commentary and to parody and challenge the figures and actions of the state.
I knew very little about Singapore prior to this book, but its unique storytelling approach and astounding inventiveness kept me gripped, and not least because of the breathtaking versatility of Sonny Liew. Each new chapter leaves you marvelling at his skill as a writer and as an immensely gifted artist. At the outset I had no idea what the true nature of this book was, and was very much ready to learn about a country's treasured comic creator, but what I got was something else entirely different. Despite this, there's no sense of being short-changed or hoodwinked, because there's still a great deal of respect and love in this biography, it's just that it's not directed at an elderly cartoonist.
It is a masterpiece of the art form, a staggering accomplishment of a multitalented artist, and an informative and accessible history. I'm not sure you will have ever read, or will ever read, anything else quite like it.
And if you liked that: Pick up a copy of Sonny Liew's Malinky Robot