By Tom Hart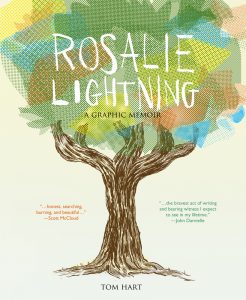 Publisher: St Martin's Press
ISBN: 9781250049940
There cannot be many experiences worse than losing a child. A difficult subject at the best of times and you'd be forgiven for thinking it an impossible subject for an original graphic novel. And yet this was something that happened to cartoonist Tom Hart, and this is his story of how he and his wife lived with that situation and searched for solace.
As a cartoonist, and someone who teaches the practicalities of putting a comic together, Tom Hart was in an unusual position to channel his loss in a way most simply could not. It avoids being maudlin and angry and is instead a story of them attempting to come to turns with a terrible situation that still manages to celebrate the time they had with Rosalie and emphasise just how much she is missed. All of this is played out against a backdrop of the family attempting to move away from New York and being almost broken by a system that refuses to let them sell their apartment, despite them having found a buyer and that they've already moved a great distance away. The physical and emotional, not to mention financial, strain of that alone would be enough to test most people, and yet this aspect of their tale is only part of their sorrow.
Rosalie Lightning is not, at all, a difficult read. It's not depressing, yet it's sad. It's not bitter, because it's so clearly full of love. An incredibly demanding topic is handled with skill and bravery producing a very honest and profoundly comforting tale about the process of grief and moving on.
And if you liked that: Try Tim Ginger by Julian Hanshaw