By Morris & De Groot
Publisher: Cinebook
ISBN: 9781849182416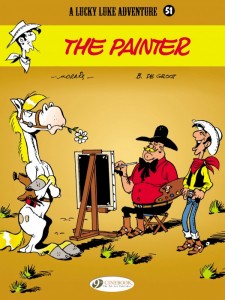 Part of Lucky Luke's charm is the ability by its creators to weave in aspects of genuine Wild West life, including some of the colourful real-life characters that made it their home. One such fellow was Frederic Remington, famous for his dramatic paintings of frontier life. However, like all Lucky Luke tales, it's a work of humorous fiction, where everything's played for laughs, so don't expect a hard-hitting biography, or even a semi-accurate portrayal. What you get is a caricature played for laughs, and that's just fine.
Luke happens across Fred painting one of his better known pictures in the desert and the two become instant friends. Retiring to a local saloon Fred displays his proficiency at putting away food and drink, but also runs into a spot of bother with a mouthy desperado determined to start some trouble. Although Fred can handle himself with his fists it sets them all down a path of conflict that plagues the rest of the story, but all interspersed with plenty of gags and good humoured shenanigans to make you smile.
Although Fred takes centre stage much of the time, it's still down to Luke to save the day when things go awry. And as is so often the way with a Lucky Luke book, you're left intrigued enough to go away and learn a little more about the real person.
Morris once again turns in an effortless job on the art, with some clever blending of Remington's paintings. It's Volume 51 and still great.
And if you liked that: Lots more to explore at cinebook.com