By Morris, Fauche & Léturgie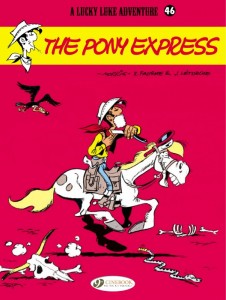 Publisher: Cinebook
ISBN: 9781849181945
In my reviews for Lucky Luke I appear to have missed this one out, so I'm putting that right now! This book isn't even close to the end of Morris's long run on Lucky Luke, but it's well into his run of collaborating with other writers, in this case Fauche and Léturgie. One of the strengths of Lucky Luke is to hang a tale on the back of some historical element of the old west, and although they don't pretend to follow events accurately (it's a comedy fiction after all), it does form the basis for a good entertaining yarn and offers the opportunity for you to go off and learn a little bit more about the subject once you've finished reading, which can't be a bad thing. One of the things I took from this tale was just how briefly the pony express existed for (you'll have to read the book to find out) but there's plenty more to discover and beyond the usual gags and comedic adventure..
The conceit of the book is that because it takes 30 days to get a stagecoach from California to Missouri, the government offer a $50,000 reward to the first person who can find a way to make the journey in under ten days. W.H. Russell takes up the challenge and announces his Pony Express service, much to the chagrin of the Pacific Railroad Company who fancy the money for themselves, and so begins a series of attempts by the company to stop Russell, usually by despicable means. Unfortunately, whilst three members of the railroad company celebrate in a bar after successfully blowing up Russell's new offices, they happen to do so in the presence of Lucky Luke, and so Luke is drawn into assisting Russell achieve his goal and get the mail delivered on time.
It's another solid tale, packed with the trademark wit you'd expect as it celebrates the highs and lows of getting the service running – and there's certainly plenty of material to work with. Even the Daltons get a look in as an engineered distraction.
I know I've written it before, but if you're a fan of comics and cartoons then you really should be reading Lucky Luke.
And if you liked that: Check out www.cinebook.com for lots more Lucky Luke titles