By Vrancken & Desberg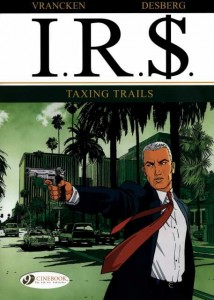 Publisher: Cinebook
ISBN: 9781905460519
It's taken me a long time to convince myself that a book with a title that's equivalent to the British HMRC is really going to captivate me. Tax returns and finances don't really get my juices flowing. Two things ended up changing my mind; firstly Cinebook have put out several volumes in the series now, so with their fantastic track record why would they be doing it if it was as dull as ditch water; secondly, it's written by Stephen Desberg, the writer of the rather excellent The Scorpion series. So I bought myself a copy of book one, pushed by accounts and invoicing to one side, and got reading.
The tale centres on one Larry B Max who is a specialist working within the IRS. His talent is that he spots patterns in the tax arrangements of individuals that suggests evasion or money laundering, or worse, and is empowered to go after the individuals concerned. He's concerned with those links to large scale criminal activity and his unique approach gives him an advantage that he uses ruthlessly. A sort of Sherlock Holmes of spreadsheets, although he doesn't operate from behind a desk, but is out there getting his hands dirty.
This first volume sees him following a trail that leads him to an ultra-rich Jewish-American entrepreneur with links going back to the end of WWII. Larry's initial probing starts a chain of events that threatens a carefully built empire and it's not one that will topple easily.
I think it's a bold move to create a comic series about something of this nature, but perhaps it's not that surprising. We have so many variants of the detective in novels, TV and movies, why not one what approaches it from this angle? There's plenty of scope for romantic liaisons, car chases, violent confrontation and the inevitable bodies amongst the turgid revelations and surprises, even if the bedrock of the book is the taxman.
So if you buy the book you get a proper crime story, packed full of action, with a modern-day villain who has built a house of cards with its foundations in the fall of the Nazis. Desberg keeps it rolling along nicely, setting up the premise and the lead character comfortably enough to make us interested in this new adventure. There are some 1980s' action movie-style quips that perhaps could have been ditched involving tax puns, but they're very few and far between. I've not come across Vrancken's artwork before, but he seems a good fit and I look forward to discovering more from him.
Overall, a pleasant surprise and not what I thought it was going to be at all. Another welcome addition to my reading list.
And if you liked that: There are plenty more volumes available – check out Cinebook's website to see more