By Morris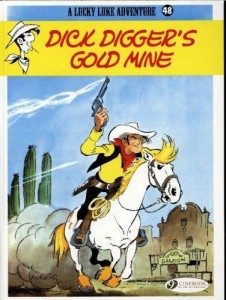 Publisher: Cinebook
ISBN: 9781849182089
Although he first appeared a few year's earlier, this is the very first Lucky Luke collected edition, first seeing print in 1949. Morris's style back then was very different to the one we now know where Luke's portrayed as bring rugged, slender and seldom-fazed, no doubt channelling a bit of early Eastwood. Back at the beginning he had much more in common with those early Merrie Melodies and Disney cartoons where characters were much more rounded and cuddly with large, glistening eyes. In fact, there are several moments of comedy in this book that read more like a storyboard to an early animated cartoon, such as Luke being pursued up a narrow pass at speed causing, in subsequent panels, leaves to be whipped from a bush and a tethered goat to be tightly bound to a tree.
The titular Dick Digger, after months slaving away on his own in the West Hills, has finally struck gold and aims to make good on the claim and reunite with his family. Despite bumping into Lucky Luke, who offers to accompany him, Dick's jovial demeanour and exuberance attracts the wrong sort of crowd during celebrations in a saloon and before the night is done Dick has been robbed of his gold and his rum bottle. The rum bottle is the biggest issue as it's empty apart from a map pointing to the exact spot he has struck it rich. Dick's been badly affected by the robbery so it's down to Luke to pursue the criminals and recover what's been taken. What follows is several changes of fortune with the map changing hands several times before the inevitable righting of the wrong. In the second story Luke arrives in a town where a villainous doppleganger is about to be hanged. The ne'erdowell's accomplices spy a solution in Luke's remarkable resemblance to their man and so a swift exchange is set up and Luke finds himself in serious trouble, where he must not only escape but also convince the populace that he's who he claims to be, and it seems the only way to do that is to bring the bad guys to justice.
It's great to see that even at this early stage, years before the wit of Goscinny enters the partnership, that Morris is hitting the mark with the gags, with many future comedic threads being explored, from Jolly Jumper's dependable and dedicated nature to the somewhat rum deal the book gives undertakers.
Morris clearly hasn't settled on a definitive style, and Luke's looks change throughout the book, but perhaps it's only really noticeable because Lucky Luke's ultimate design is so familiar and memorable. What you can rely on are two solid tales to make you grin – a must buy for any Lucky Luke fan.
And if you liked that: Plenty more Lucky Lukes available to keep you happy at www.cinebook.com