By Guy Delisle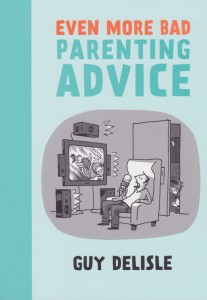 Publisher: Drawn & Quarterly
ISBN: 9781770461673
This is a follow-up to Guy Delisle's A User's Guide To Neglectful Parenting, a rather splendid collection of somewhat frightening yet recognisable scenarios we parents get to face. What's good about this book, and its predecessor, is that it does make you feel you're not alone, although there are several incidents that you hope never actually happened otherwise Mr Delisle may well find himself in trouble with the authorities.
His travelogue books are excellent observant records of travelling and living in places such as Burma and China, and what makes them fascinating is that the day-to-day exploits are interesting enough in their own rights because the interactions are often so very different to our own lives. When you're reading this book, however, you can't really be sure how much is autobiographical and how much is fiction. I'm tempted to say the former with a smidgen of the latter for good measure.
His particular brand of parenting is a little ramshackle, contributing to the awkwardness of many of the situations. Because he works from home much of the day-to-day interactions with the children are without the presence of his wife, and involve such scenarios as exacting revenge on a classmate of his daughter via the medium of a children's party game, taking his son to the beach while the shark warning flag is flying and explaining how having a homeless person come live with them would be a good idea.
In A Night At The B&B his son is feeling grumpy that he has to sleep in the bed nearest the door while his sister gets to sleep next to the wall. In an effort to explain to his son the considerate and caring role a big brother should take he manages to mangle the explanation through a fumbled example of a psychopath happening upon the room and his son taking the blow first. Cringeworthy, but very funny.
In Hide & Seek he is stung by his small daughter's comments that he's no good at the game, something he takes far too personally with a disproportional critique of her own skills.
Like the original book, it's perhaps a little too brief, but certainly perfectly formed.
And if you liked that: Check out one of Delisle's travelogue books