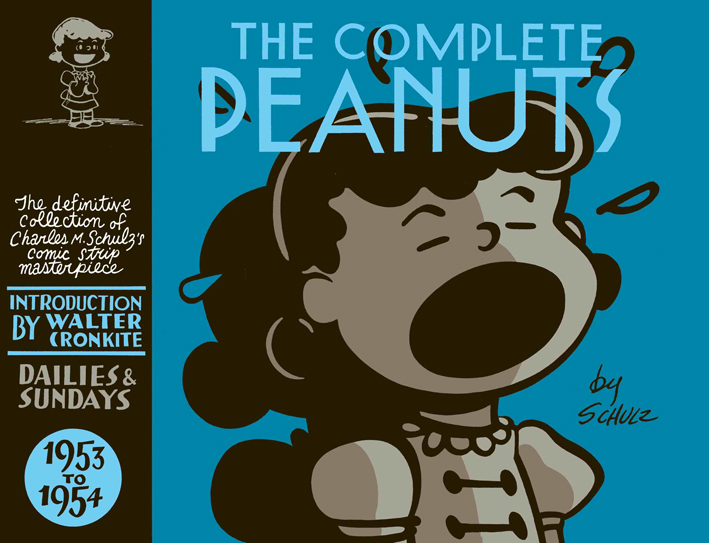 By Schulz
Publisher: Canongate
ISBN: 978-1-84767-032-8
This is the second volume in an ambitious project to reprint every daily and Sunday strip from the entire run of Peanuts. At this stage the strip is only into its third year so it still has a small cast of characters and many of its recurring themes are still yet to develop, as are some of the characteristics that define the main players. Linus is barely a toddler and we don't get to see him with his blanket until well into the book, and Snoopy is still a far cry from the beagle we all now know him as. We also get to meet Pig-Pen for the first time – a character I have a particular soft spot for.
You can immediately appreciate why the strip became so successful, showing the world through these small children's eyes as they try to make sense of it all. And because they're small children they can be as equally mean as they are charming. In one strip Charlie Brown is taunted that he's not invited to Violet's tea party. I don't like tea, states Charlie Brown revealing he prefers hot chocolate, so Violet tells him he's not invited to her hot chocolate party.
It is incredibly well presented and wonderfully packaged, and the ever-expanding series promises to be a fitting tribute to its creator. A guaranteed pleasurable read, make no mistake.
And if you like that: Pick up 1955-1956!
The Complete Peanuts 1953-1954 (Peanuts): 2
(Book)
Publisher: Canongate Books Ltd
Published: 2007-10-18
Number of pages: 320
ISBN: 1847670326
Price: £16.99
22 new from £9.61
7 used from £10.05
Information accurate as of May 2, 2014, 4:35 pm