By Jamie Smart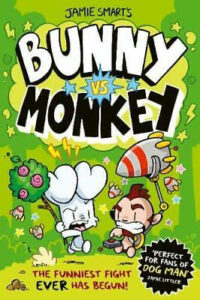 Publisher: David Fickling Books
ISBN: 9781788451772
Not new material, but certainly a new book. Jamie Smart's most excellent Bunny vs Monkey gets a reprint of the first two volumes in this slightly chunkier, scaled-down edition.
If you're not familiar with the comic, it's madcap, silly, and joyously funny. Besides Bunny there's a cast of characters including Action Beaver and a skunk who just happens to be an inventing genius. Life would have been an idyllic, peaceful existence, but then Monkey crashes into the woods and it's been problematic ever since. Whether Monkey is posing as Theodore P. Whibblebuss, a rich oil prospector, or sporting robotic arm enhancers, his intentions are always of the worst kind. And that means trouble for everyone else. Fortunately, he's pretty hopeless.
Originally printed in the Phoenix comic, each story is just a few pages of anarchy and destruction (not forgetting laughs and cuteness), so you can power through the whole book in one sitting or dip in as you please. It's up to you.
It's a lot of fun, and, understandably, ideal for kids. Enjoy.
And if you liked that: Look out for Jamie's other book, Looshkin, for more outlandish laughs.