By Davide Reviati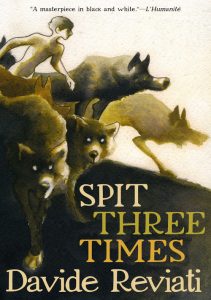 Publisher: Seven Stories Press
ISBN: 9781609809096
The borderline between childhood and adulthood, where responsibility for your own actions conflicts with the carefree attitudes of youth, is a difficult place to traverse. For some, it takes time to identify what path through adulthood they are going to take, especially when it's easier to defer that decision for more hedonistic pursuits. In Davide Reviati's novel we are thrown into the adolescent travails of Guido, and his friends Moreno and Katango, as Guido's eyes are slowly opened up to a wider world  that's just upon his doorstep.
Living in a rural community in Italy, Guido and his friends are struggling through high school, disenchanted and disinterested with their lot. Their distractions are one  another's company, drinking, and the nearby Riviera town. Their focus is short term, and anywhere but where they live. So it's little wonder that they pay such scant regard to the Stancic, a family of Romani gypsies. The rest of the town either shuns them or berates the family, blaming them for the community's every problem. But the Stancic family doesn't stay unnoticed by Guido and his friends for long. Slowly their lives intertwine, revealing a people who have suffered gravely under Marshal Tito during the Second World War and who, even now, remain outsiders despite living alongside the townsfolk for so long. Ultimately it is this fragile bond between the teenagers and the Stancic that lifts the boys to adulthood.
Reviati's tale is powerful and personal, occasionally straying into more abstract storytelling but always delivering an honest rendering of what it's like as you prepare to leave childhood behind. The depiction of the Stancic family, and the town's prejudice, feels brutally honest and is brought into sharp relief by the historical context. Light on text, the story is balanced by the extraordinary illustrations. I for one am so accustomed to polished, finely detailed penmanship that at first glance the book's illustrations look hurried and unfinished. In fact, they are simply free and loose, capturing a palpable buzzing energy that makes every page feel like it's in motion. Although sometimes stark, it's striking, and although sometimes bleak, it's vibrant. 
Spit Three Times is, perhaps, unlike any graphic novel you've ever read, and for that reason alone it deserves your attention.
And if you liked that: Try Exit Wounds by Rutu Modan.