By Mark Warby
This article first appeared in Issue 532 of The jester Magazine, July 2019
Cartooning can be a family affair – particularly in America, where at least one cartooning 'dynasty' has traversed three generations. Here's an (almost) A-Z of 'potted' biographies of a few cartoonists and their offspring/siblings who have followed in their footsteps.
James Pinckney Alley (1885-1934) was Editorial Cartoonist of the Memphis Commercial Appeal from 1916 and created Hambone's Meditations. His sons, James Jr. (1913-1990) and Cal (1915-1970), worked together on Hambone after their father's death. Cal was also Editorial Cartoonist on the Memphis Commercial Appeal, 1945-70, and created the strip The Ryatts, which he drew 1954-67.
James Jr continued drawing Hambone until 1968. Their mother  Nona (1887-1974) scripted Hambone, 1934-68. Brad Anderson (1924-2015) created the syndicated panel Marmaduke in October 1954. His son Paul (b.1953) assisted on drawing the feature from 2004 and took over fully on his father's death.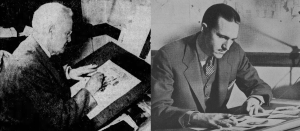 Clifford and Jim Berryman
Clifford K Berryman (1869-1949) was cartoonist for the Washington Star, 1907-49. He won the Pulitzer Prize for Editorial Cartooning in 1944. His son James (1902-1971) was also political cartoonist with the Washington Star for 42 years until 1964. Berryman Jr won the Pulitzer Prize for Editorial Cartooning in 1950.
Brumsic Brandon (1927- 2014) created the strip Luther, which ran 1968-86, later contributing political cartoons to Florida Today. His daughter, Barbara Brandon- Croft (b.1958), created the strip Where I'm Coming From, which she drew from 1989-2005.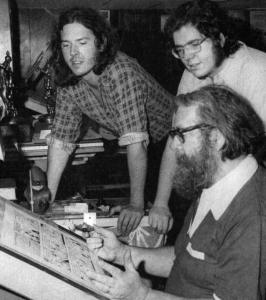 Dik, Chris and Chance Browne
Dik Browne (1917-1989) co-created Hi & Lois with Mort Walker in 1954 and drew it until 1988. In 1973 he created Hagar the Horrible. Since 1988 his son Robert 'Chance' (b.1948) has drawn Hi & Lois and younger son Chris (b.1952) has drawn/ written Hagar.
James 'Hal' Donahey (1875- 1949) was Cleveland Plain Dealer cartoonist, 1900-49. His brother William (1883- 1970) created the syndicated cartoon feature The Teenie Weenies, which he drew 1914-70.
Thomas A 'Tad' Dorgan (1877-1929) was a revered sports cartoonist whose drawings were syndicated throughout America. His younger brother Richard W 'Dick' Dorgan (1892-1953), also a cartoonist, worked on several features including the strip Colonel Gilfeather, 1930- 32.
Will Dyson (1880-1938), the Australian cartoonist, drew for the Daily Herald, 1912-22  and  1930-38. His brother Ambrose (1876- 1913) was cartoonist for Melbourne Table Talk, and Sports Cartoonist for the Melbourne Herald, 1907-10. Ambrose's son Ambrose Jr (1908-52), known as Amby, was cartoonist for the Army newspaper SALT in 1944 and later the Melbourne Guardian.
Ray O Evans Sr (1887-1954) was Editorial Cartoonist at the Columbus Evening Dispatch from 1922 until his death. His son Ray Jr (1913-1982) was also Editorial Cartoonist with the Columbus Evening Dispatch, 1944-61.
John Gallagher (1926-2005) sold his first cartoon to the Saturday Evening Post in 1951 and freelanced for the next 20 years. His brother George Gately Gallagher (1928-2001), who drew under the name George Gately, created the panel feature Heathcliff in 1973 and John joined him working on the feature. The brothers retired in 1998 when their nephew Peter Gallagher took over Heathcliff.
Jack Gibson (1904-1980) was a well-known Australian cartoonist who drew for Man magazine, 1937-74. His son John (1930-2018) adopted the surname of his stepfather, Arne Jensen, and sold his first cartoons to Australian magazines, before coming to England. John Jensen was Pocket Cartoonist for the Birmingham Mail 1951-53, Glasgow Bulletin 1953-56, and Political Cartoonist for the Daily Telegraph 1961-79 also contributing to Punch from 1953.
Alex Graham (1917-1991) created Fred Basset for the Daily Mail in 1963 and drew the strip until his death. Since 1993 his daughter Arran Keith (b.1948) has written the storylines. The strip is now drawn by Michael Martin.
Johnny Hart and Mason Mastroianni
Johnny Hart (1931-2007) created the strip BC which he drew/wrote from 1958 until his death. He also scripted The Wizard of Id which he co-created with Brant Parker in 1964. Since 2007 his grandsons Mason (b.1978) and Mick Mastroianni (b.1982) have produced BC, Mason as cartoonist and writer, Mick as writer. Mason has also drawn The Wizard of Id since 2015. Johnny's daughter Perri (b.1957) also works on BC as a colourist and letterer.
Dick Hodgins Sr (1905- 1984) was cartoonist on the Orlando Sentinel, 1957-70. His son Dick Jr (1931-2016) drew Hank Ketchum's strip Half Hitch, 1970-75, and was editorial cartoonist on the New York Daily News until 1979. He drew the strip Henry, 1983-95, and worked on inking on Hagar from 1995. Dick Jr's son Richard began drawing the Sunday Hagar in November 2015.
Frank and Phil Interlandi
Frank Interlandi (1924-2010) was Editorial Cartoonist on the Los Angeles Times, 1962-His identical twin brother Phil (1924-2002) contributed to Playboy from 1955 and drew the syndicated panel Queenie, 1966-86.
Bill Keane (1922-2011) created The Family Circus in 1960. From 1981-83 he drew the strip Eggheads with son Jeff (b.1958), who also worked on The Family Circus from 1981 and took over fully after the death of his father.
Dick Locher (1929-2017) assisted Chester Gould on Dick Tracy, 1957-61. He was Editorial cartoonist with the Chicago Tribune, 1973- 2013, and also drew Dick Tracy, 1983-2009. His son John (1961-1986), also a cartoonist, worked with his father on Dick Tracy from 1983 until his death.
Jeff MacNelly (1947-2000) drew for the Richmond News Leader, 1970-82, before he moved to the Chicago Tribune, winning the Pulitzer Prize for Editorial Cartooning in 1976, 1978, and 1985. He created the strip Shoe in 1977. His son Jake (1972- 1996) was cartoonist for the Aspen Times.
Winsor McCay (1866-1934) created Little Nemo which ran 1905-14 and was revived 1924-26. His son Bob (1896- 1962) drew a new version of Little Nemo, 1935-36, as well as political cartoons.
George McManus (1884- 1954) created the strip Bringing Up Father, which he drew from 1913 until his death. His brother Charles (1880-1941) created Dorothy Darnit (1919-mid 1920's), Mr Broad of Wall Street (1921- 23) and Tiny (1927-28).
Joe Martin (b.1945) created the strips Mr Boffo, Porterfield, Willy 'n' Ethel, and Cats With Hands. In 2000 the Guinness Book of World Records recognised him as the world's most prolific cartoonist with 22,000 cartoons published since 1978. His son Jay Martin (b.1974) created the strip Tommy which ran 1996-98.
Brant Parker (1920-2007) co-created The Wizard of Id with Johnny Hart in 1964. He drew the strip until 1997 when his son Jeff took over, handing over to Hart's grandson Mason Mastroianni in 2015.
Albertine Randall (1863- 1954) drew the strip In Rabbitboro (later retitled The Dumbunnies) from 1922-33. Her son Edgar Wheelan (1888-1966) created the strip Minute Movies which he drew 1918-35.
Alex Raymond (1909-1956) created Flash Gordon in 1934. His brother Jim (1917- 1981) drew Blondie from the late 1940s.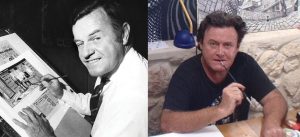 Paul and Bay Rigby
Paul Rigby (1924-2006), cartoonist for the Sun and News of the World, 1969-74, later worked for the New York Post and Daily News, retiring in 2000. His son Bay (1963- 2011) replaced his father as cartoonist on the New York Post, 1984-92.
Ben Roth (1909-1960) and his brothers Al Ross (1911- 2012),   Irving  Roir  (1907-1981) and Salo Roth (1916-2003) were all cartoonists, long-time contributors to the Saturday Evening Post, Esquire, Judge and Colliers. Al also drew for the New Yorker for over 60 years from 1937, and Salo's daily 'Laughing Matter' was syndicated by the Chicago Tribune, 1946-Apart from Ben they all used variants of their name to sign their drawings.
Mort Walker (1923-2018) created Beetle Bailey in 1950 and (with Dick Browne) Hi & Lois in 1954. His sons Greg (b.1949), Brian (b.1952) and Neal (b.1961), all worked with their father and are now part of the creative team behind both strips. Another son, Morgan (1957-2017), was a gag writer on Beetle Bailey. The brothers drew and wrote their own strip Betty Boo and Felix, 1984-88.
Ben Wicks (1926-2000) was born in London but moved to Canada in 1957. Already a highly successful cartoonist, he created the strip The Outcasts in 1975. His son Vincent (b.1959) joined him in working on the strip in 1982 and took it over on his fathers' death.
Beryl (Antonia) Yeoman (1907-1970) and her brother Harold Underwood Thompson (1911-1996) created cartoons together using the name Anton, contributing to Punch from 1937. During WW2 Antonia continued to produce cartoons as Anton while Harold served in the Royal Navy. After the war they worked together again, contributing to Punch, Lilliput, London Opinion, and Men Only. Their partnership ended in 1949 when Harold decided to pursue other interests. Antonia continued as a cartoonist using the name Anton, her drawings appearing in Tatler, Lilliput, Men Only, New Yorker, Evening Standard, Private Eye and Punch.
Chic and Lyman Young
'Chic' Young (1901-1973) created long-running strip Blondie in 1930. His son Dean  (b.1938)   worked on the strip with his father from the early 1960s and has been head writer on the strip since 1973. Dean's daughter Diane also assists on Blondie. Chic's older brother Lyman (1893-1984) created the strip Tim Tyler's Luck in 1928. Lyman's son Bob (1921-2017) worked on the strip for many years and continued it after his father's death until 1996.