By Posy Simmonds
Publisher: Jonathan Cape
ISBN: 9780224089098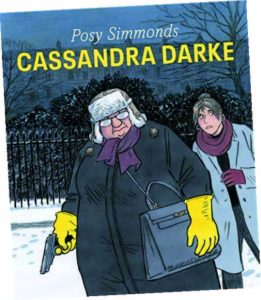 This review was  published in issue 533 of The Jester magazine, August 2019. Review by Simon Chadwick.

Pete Shea wrote to me recently to ask if I've ever reviewed a Posy Simmonds book and recommended Cassandra Darke having just finished it. Well, I haven't, so here we go.
Simmonds' work is often an adaptation of another author's work (Gemma Bovery is Madame Bovary and Tamara Drewe is Far from the Madding Crowd) and in this case it's A Christmas Carol.
It follows an elderly art dealer beset by personal and professional problems. Although the Christmas Carol aspects are subtle, they do telegraph the narrative arc in advance, but because there's so much more going on here with her relationship with her step-sister's daughter and an unwanted brush with a bunch of criminals the book well and truly stands on its own two feet.
Although presented as an original graphic novel the page layouts owe more to a scrapbook than a traditional multipanel page, with much prose written around and between illustrations. A little disconcerting to begin with, but Simmonds uses it to its full storytelling advantage.
I'll leave the last word to Pete: "Both her illustrations and writing reveal just how talented she still is."
And if you liked that: You may also like Tamara Drewe.
Simon Chadwick
There are more book reviews at www.TheCartoonistsClub.com