By Mark Warby
This article appeared in issue 531 of The jester magazine, June 2019
Gerard Hoffnung's brilliant cartoons appeared in Punch, Tatler, Lilliput and numerous other British, American and continental magazines through the 1950s. He was a regular on BBC radio, on panel games like One Minute Please (1951-57) and Call the Tune (1955-59). Richard Ingrams later called him "a brilliant improviser with a dry wit and a masterly sense of timing".
Gerard's real passion, though, was music. "I love music to the point where it eats me," he once said. "My whole life is music."
He took up playing the tuba in 1951 and by the mid 1950s was playing bass tuba with the Morley College Orchestra (of which he was Vice President) in London.
Much of Gerard's work focused on music. The Maestro (1953) – a collection of cartoons of conductors – sold over 250,000 copies, followed in 1955 by a second volume of musical cartoons, The Hoffnung Symphony Orchestra.
Gerard had been toying for some time with the idea of bringing his musical cartoons "to life" and by the time his next book – The Hoffnung Music Festival – was published in September 1956, plans were well underway to translate his drawings into a full-length concert.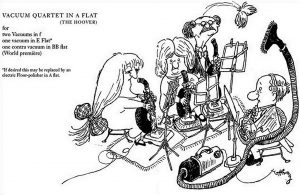 The Royal Festival Hall was secured as a venue, and London County Council was persuaded to back the concert. The Morley College Orchestra agreed to take part (as the Hoffnung Symphony Orchestra), six British composers were commissioned to write new pieces especially for the event, with Sam Wanamaker enlisted to produce it.
Announcing the concert on 27 August 1956, Gerard said The Hoffnung Music Festival would be "a caricature symphony concert of immense proportions" and "an explosion of musical exuberance such as London has never heard before".
One of the most publicised pieces written for the concert was Malcolm Arnold's Grand, Grand Overture – scored for three vacuum cleaners (one upright in B Flat, and a horizontal with detachable sucker in C), a floor polisher (in G), four rifles and full Orchestra! Inspired by a Hoffnung cartoon, the score was dedicated to President Hoover!
The concert was set for November 13, 1956. Tickets went on sale a month in advance, with all 3,000 seats sold out within two hours!
Opening the concert, TE Bean, General Manager of the Royal Festival Hall, announced to the audience that "owing to circumstances over which the LCC and the management of the Hall have no control, tonight's programme will be given exactly as advertised."
The concert was full of visual gags and bizarre twists created by Gerard. The capacity audience at the Royal Festival Hall were fooled into standing up for the National Anthem by the introductory drum roll in Francis Baines' Fanfare. Then as Malcolm Arnold was about to begin conducting his Grand, Grand Overture, Yfrah Neaman entered the auditorium playing his violin "in protest against this musical unorthodoxity" and was chased off. Later in the piece, as the rifles were fired, a violinist was startled off his chair, and feinted when a cannon was shot!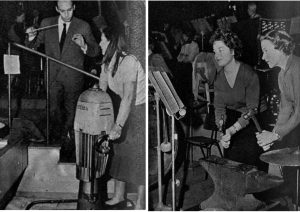 Leopold Mozart's Concerto for Alphorn and Strings (3rd Movement) became a Concerto for Hosepipe and Strings, with Dennis Braine blowing the piece down a length of garden hose; Franz Reizenstein's Concerto Populare (Piano Concerto to end all piano concertos) had Norman Del Mar believing he was conducting a Tchaikovsky concerto, battling against solo pianist Yvonne Arnaud, playing Grieg.
Haydn's 'Surprise' Symphony No 94 in G was arranged for instruments including eight partly-filled stone hot water bottles, and Chopin's Marzuka No 47 in A Minor was specially arranged for tuba quartet (which included Gerard).
The Lift Girl, written by John Betjeman, was sung by Jenny Johnson, and Sir Walter Scott's ballad Lochinvar, arranged by Humphrey Searle, was recited by Yvonne Arnaud and Gerard, accompanied by alphorn, a consort of broken glass, and practically "everything in the kitchen department that opens and shuts".
Variations on Annie Laurie were scored by Gordon Jacob for two piccolos, a hecklephone, two contrabass clarinets, two contrabassoons, serpent, bass serpent, harmonium, hurdy gurdy and an enormous seven foot high tuba (on wheels, and warmed up with bellows), played by Gerard.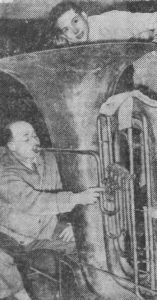 The concert, televised by the BBC, ended with a full choir singing Toch's Geographical Fugue, and Respighi's Feste Romana played by full 130 piece orchestra and 36 trumpeters of the Royal Military College School of Music.
The Daily Mirror called the concert "a glorious spoof on highbrow music" while another reviewer wrote that the Chopin Marzuka was "by far the most ghastly racket I have heard in my life".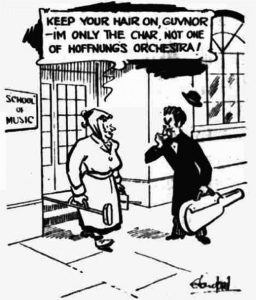 The day after the concert Liverpool Echo cartoonist 'Happy' Handford was inspired to use it as the subject of his daily drawing in the paper (above).
In 1958 Gerard began planning another concert, the Hoffnung Interplanetary Music Festival, to be held at the Royal Festival Hall on November 21-22, 1958. Tickets went on sale on October 22, 1958 and sold out within three hours.
Two days before the concert a notice appeared in The Times: "Wanted Urgently – a small fat boy not older than 12 who can play a brass instrument, to blow an 'A' on a watering can." Jonathan Ashby, originally chosen to play this bizarre instrument at the concert, had fallen ill and a replacement was needed urgently. Thirteen boys auditioned, Gerard choosing two – Douglas Murphy from Midhurst, and Kevin Pascall from Finchley – one to play on each night of the concert.
As with the 1956 concert this one was full of visual gags. During his opening speech on November 21, TE Bean was interrupted by a persistent cougher in the stalls. There was a shot from the wings, the irritant cougher staggered to the front riddled with bullets, fell at Mr Bean's feet and was carried off on a stretcher.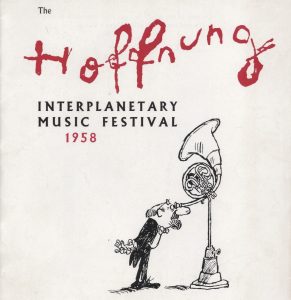 The concert began with the Hoffnung Festival Overture – scored for full orchestra, a violence of trumpets – and an anvil, setting the tone for the many 'Hoffnung surprises' to come – which would include cow bells, mass pop guns, and two men playing ping- pong in counterpoint!
Joseph Horovitz's Metamorphosis on a Bed- Time Theme (Allegro Commerciale in Modo Televisione) reworked the music of Bach, Mozart, Verdi and Stravinksy and others, as if composed for television commercials, accompanied by another of Gerard's "overlooked" instruments, a road rammer.
For Francis Chagrin's Concerto for Conductor and Orchestra, The Maestro (Gerard) was carried to the rostrum in a sedan chair. Sharpening his baton with a pencil sharpener, he produced an A-K London telephone directory to use as a score, and half-way through the piece fought a duel with pianist Joseph Cooper, he with his baton, Cooper with a violin bow. He later kissed a lady cellist, and ended the piece sitting on the floor crying his eyes out.
Malcolm Arnold's satirical United Nations Overture was performed by full orchestra and three brass bands who marched in simultaneously, one from each entrance in the hall, each playing a different march, all crashing in to each other as they played.
Dame Edith Evans, "regal and gracious as ever", was carried on stage in a sedan chair to give a recitation of William McGonagall's poem The Famous Tay Whale, accompanied by instruments including an Expresso Coffee Machine!
The concert ended with Let's Fake an Opera or The Tales of Hoffnung, a hotchpotch of popular operas combined together, with a cast of stars from the Royal Opera House, Covent Garden and Sadlers Wells Opera Company and even a real swan. Cigarette girls from Carmen mingled
onstage with Mastersingers of Nuremberg while eight Valkyries on Tri-ang scooters (loaned by Hamleys Toy Shop) were chased by a dragon (designed by Gerard and operated by eight men) in carpet slippers.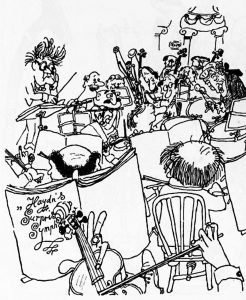 Two repeat performances of the Interplanetary Music Festival were given on February 6, 1959. A third concert was planned for November 1959, but sadly Gerard Hoffnung died on 29 September 1959, aged just 34, before it came to fruition.
The Hoffnung Astronautical Music Festival in 1961 was a memorial tribute to Gerard, and music from all the concerts has been performed many times worldwide since his death. Notably at the Royal Albert Hall on September 12, 2009, when the Last Night of the Proms included Malcolm Arnold's Grand, Grand Overture – with Sir David Attenborough on floor polisher, and comedian Rory Bremner, musician and DJ Goldie, and journalist/ broadcaster Martha Kearney on rifles.