By Goscinny & Tabary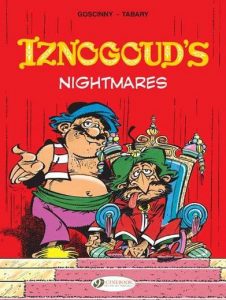 Publisher: Cinebook
ISBN: 9781849183604
With this latest book we get to see a slightly different spin on Iznogoud's tales. All the previous volumes have focused on roughly four short stories per book, jam-packed with quick-fire gags and comic situations that invariably fail to make Iznogoud Caliph instead of the Caliph. But there was a time that Iznogoud became a satirical commentator, moving from the pages of Pilote to newspaper Le Journal du Dimanche, where he was given an entire page to reflect on current events through the mirror of Iznougoud's Baghdad.
Naturally, the news and current affairs that these strips reflect took place several decades ago, but often the themes are broad enough, and relevant enough, that they still resonate now. What's more, the book includes a helpful page of notes that pick out a few newsworthy items for context, so at no point do you feel it necessary to go and brush up on old news yourself.
Topics covered include trade missions, strikes, arms dealing and wayward government decisions that all deserve the shining light of satire upon them to reveal their absurdities, contradictions and hypocrisies. One particular tale, involving several panels of what seem at first unconnected ramshackle scenes, is in fact a glimpse of government talks, neatly tied up in the final panel by a set of stock phrases you tend to hear in a press release after such events that when taken at face value sound positive but could equally mean the horror show you've just read.
I confess I wasn't too sure I'd stay the distance with this one, what with it being largely focused on a news from another time and another place, but the creators continually capture the essence of the situation and deliver the ideal response through Iznogoud, making it instantly accessible. What's more, for all our global advances, many of the topics covered are just as relevant today, and can be spotted regularly in the news from across the world, so Iznogoud may at the time have been commenting upon an actual situation in France, but you probably saw something yesterday of a similar nature taking place here, the Middle East or the US.
Surprisingly, then, this is quite a gem of a book, full of biting humour, brief and punchy in its execution, and fantastically drawn as always. How'd have thought Iznogoud would end up being such a force for good?
And if you liked that: Plenty more Iznogoud at cinebook.com