By E.O. Plauen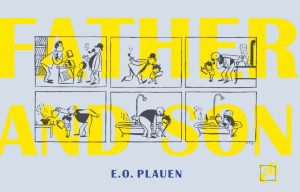 Publisher: New York Review Comics
ISBN: 9781681371207
Originally created in 1934 by political cartoonist Erich Ohser, Father And Son was a hugely popular strip in Germany. Because Ohser had previously upset the Nazi regime and been blacklisted the strip was published under a pseudonym. Appearing originally in Berliner Illustrirte Zeitung for three years the strip focused almost exclusively on the relationship between the titular characters, but occasionally grandfather and great-grandfather too. Almost entirely wordless, the strips feature the affectionate relationship between father and son getting into various scrapes from everyday life and, at times, the more surreal and downright  odd. Part of its success and charm is the way they are portrayed as being two peas in a pod, with Father often being more easily distracted and childlike than Son.
Such was the success of the strip that the Nazis even used it to advertise a charity drive, much to Ohser's chagrin, so by 1937 he ended the strip but continued as a cartoonist and caricature artist.
In 1940 he was employed on Goebbel's Das Reich newspaper to poke fun at Germany's enemies, but he was disillusioned with the war and detested the Nazis. He became a little too vocal in his point of view and was denounced by his neighbours, being arrested in the spring of 1944 where he was sentenced to death. However, he managed to give his executioners the slip only to take his own life. A tragic end for a man that had given so much pleasure to a country going through such a horrendous period.
The book is a loving and fitting memorial to an important figure from the history of cartooning
And if you liked that: You should give Walt & Skeezix a try, a similar collection from a similar period in time from the other side of the Atlantic.