By Laura Ellen Anderson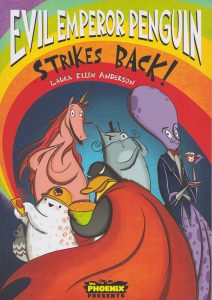 Publisher: David Fickling Books
ISBN: 9781910989876
There's an image, on the back cover of this second collection, that brilliantly sums up this book. It's a unicorn (called Keith) with a rainbow arcing out of his bum, with a cute abominable snowman upon his back gleefully shouting "TO THE LAIR OF EVIL!".
There's absolutely loads of evil within these pages, but all of it is muted, obscured or obliterated by various cute or incompetent acts, largely centred around Eugene, the aforementioned miniature abominable snowman. The Evil Emperor Penguin is certainly a nasty piece of work, in that he's rather rude to Number 8, his octopoid second-in-command, and his plans, if they ever came to anything, would certainly wreak havoc, but they seldom ruin nothing more than their antarctic base or, even worse, their spaghetti hoops.
There's a lot of ludicrous gags, ridiculous inventions and utter hopelessness that can only prove entertaining to younger readers keen to see everyone get everything wrong. Laura Ellen Anderson's gift for absurdity takes us to all sorts of nonsensical places, probably the finest being a giant super-computer with an equally ginormous USB stick that, when you lay inside like a massive data-coffin, uploads you to a digital form. There have been plenty of tales of people being digitised, but the USB method was masterful.
Silliness prevails throughout, and in one tale I couldn't help but snort loudly when, needing to signify that it was a new day but being stuck in the antarctic, it's left to a gleeful seal to say 'cockadoodledoo'. Well, who wouldn't laugh at that.
If you've got primary-aged children then this should prove a big hit with them.
And if you liked that: There's more to discover at thephoenixcomic.co.uk