By Franquin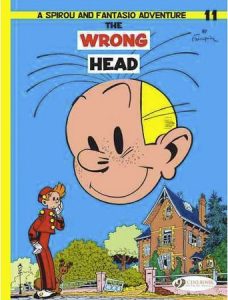 Publisher: Cinebook
ISBN: 9781849183130
The latest Spirou and Fantasio adventure takes a leap back to an earlier Franquin exploit where something rum is going on at Fantasio's house. He's suffered a break-in but the only thing that appears to have been taken are some simple passport photos. To perk him up Spirou suggests a game of paddleball on the tennis courts of a neighbouring property. Usually the house is empty but it has new tenants and so they ask permission first before undertaking a somewhat fraught game in which Fantasio takes a nasty knock to the nose. After an exchange of flared tempers Fantasio stalks off declaring he's going to stay safely indoors while Spirou takes off into town, only to spy Fantasio in the distance talking to the new neighbour. He attempts to follow them but loses sight, before stumbling upon a robbery in which several expensive watches have been stolen. The problem is that the culprit appears to have been Fantasio. To make matters worse, Spirou and Spip then see Fantasio steal a golden Egyptian mask live on television. Clearly something isn't right.
Spirou's curios mind sends him back to the neighbouring property and the new neighbour where he uncovers a rather cruel yet ingenious scheme, but will he be able to thwart the plan and gather the evidence in time to prevent Fantasio's demise.
I can't pick a favourite between Tome and Janry's version of these books and Franquin's – it seems to depend on which one I'm reading at the time. Franquin's art is clear and unhurried, yet still full of drama, comedy and personality. I'm sure it's as vital and vibrant as the day it was first drawn. I found myself criticising the neighbour who grants them permission to use the tennis courts as it didn't make sense he'd do so knowing Fantasio would be part of the pairing, but looking back at that particular panel it is just Spirou that approaches the door to ask while Fantasio remains patiently at a distant and unwittingly out of sight. Nicely done. I'm not so sure I buy the later balloon escapade though. There are certain essential holes that seem to be glossed over during the grand inflation, but by this point you're so into the tale (it's got a talking squirrel in it and the lead's running about in a bellboy costume for goodness sake) it doesn't really matter.
We're rather privileged to be given the chance to enjoy these classic European comics so I urge anyone who hasn't taken the plunge with them yet to do so. They're magnificent compositions that revel in the possibilities of the art form, from creators doing some of their finest work. Spirou & Fantasio is so popular across the channel that a movie is currently in production, and yet so few people this side of the water have even heard of it. So stop dallying – get to know them better.
And if you liked that: Plenty more at www.cinebook.com