By Vehlmann & Bonhomme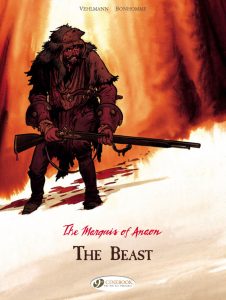 Publisher: Cinebook
ISBN: 9781849182782
The Marquis Of Anaon series continues with Jean-Baptiste seconded to a squad of dragoons to investigate a series of gruesome killings along the eastern French border with Savoy (the story taking place before it's annexed). The killings are sporadic and violent, and villagers tell tales of an enormous hairy beast with human-like eyes, swearing that what they'd seen was a werewolf. The leader of the dragoons is Jean-Baptiste's cousin, and he hopes that Jean-Baptiste's presence will help them all understand the nature of what's taking place.
What follows is a pursuit up into the mountains, with the dragoons disguised as civilians, as they hunt the creature through woodland and snow to a final confrontation high in the Alps.
Unlike Mulder, who just wanted to believe, Jean-Baptiste wants to understand, so that means gathering first-hand evidence and assessing situations with a critical rather than a fanciful eye. Although not painted as a sceptic, he's certainly learning to question what many take at face value, and this sets him apart from those he encounters.
The Beast is a chase, through countryside and villages, so unlike previous tales there's no clear adversary other than the creature they hunt. For this reason it has a different beat to the other books, as it's less of a whodunnit and more of a will-they-catch-it. I don't think the ending will necessarily surprise any of the readers of the previous books, but its execution is once again flawless, emphasising the risks the men are taking, the hardships they endure and the scenery they are moving through to give the reader an immersive experience. Hats off to the creators to not relying on a formula, either, allowing this book to have a drama and tension of its own.
For me, arguably one of the best series out there at present.
And if you liked that: Book five is coming soon