By Laudec & Cauvin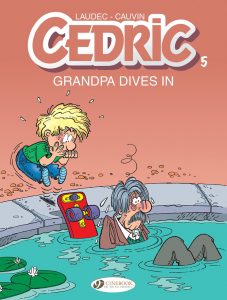 Publisher: Cinebook
ISBN: 9781849182539
I've a soft spot for Cedric. He may not be as mischievous as Dennis the Menace, or as exasperating as Horrid Henry, but he does have his moments. And yet, at his heart, he's just an eight-year-old boy trying to make sense of the world around him, be that with his family, amongst his friends, or with Chen, the girl he's smitten by. So more often than not his stumblings and fumblings don't end with the result he intended, nor even with the result he deserved, but they do reflect a child coming to terms with the world around them.
Sometimes his little acts of gallantry where Chen is concerned backfire, such as in the story of the children having swimming lessons and learning that Chen cannot swim at all. Cedric's determination to repeatedly help Chen simply land him in much hotter water with the swimming instructor. And when he scuffs his knee and a rumour goes about that he may lose his leg Chen arrives at Cedric's house to ensure he's OK, forcing him to put on a brave face and grit his teeth while the wound is disinfected. Both brief tales are told with affection and humour, and any adults reading it will acknowledge that we don't necessarily lose those feelings of awkwardness. This is highlighted by Cedric's grandpa who lives with them, often the catalyst for a joke, but also used touchingly by the creators. In one tale grandpa equates his worldly goods to a cardboard box full of photos that he keeps in the dresser. The rest of the family have seen them countless times and aren't in a hurry to see them again. Laudec and Cauvin take a very mature subject of ageing and loss and spin a gentle yet thoughtful story of family out of it that avoids crass sentimentality and embraces togetherness, and still creates a smile.
If your child likes comics and cartoons then this has a great balance of humour and fun to capture their attention. Beautifully drawn and thoughtfully written, Cedric strikes just the right balance.
And if you liked that: There's plenty more Cedric available at www.cinebook.com