By Rupert Besley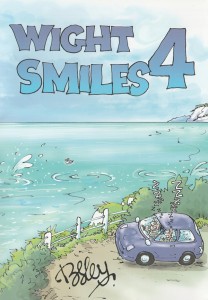 ISBN:  9781870947763

CCGB member Rupert Besley lives on the Isle of Wight and is a regular cartoon contributor to the Isle of Wight County Press, of which many make up the contents of this latest collection.
Never been to the Isle of Wight? Think these gags will sail right over your noggin? Fear not. Many of the issues poked fun at will have equivalents where you live, while others, with the aid of a caption, are easy to follow, especially as Rupert is gifted at distilling a given situation down to get to the nub of the matter, and then make it funny. There are also plenty of gags looking at everything from the weather to Christmas. If you like a good gag cartoon then you'll be quite at home and chortling away.
And at under a fiver it's a perfect stocking filler, so do have a word with Santa.
And if you liked that: Plenty of other Besley books available from Rupert's website: http://www.besleycartoons.com/1/Buy.html