By Morris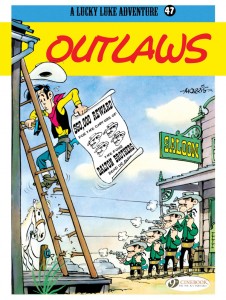 Publisher: Cinebook
ISBN: 9781849182010
I have to confess that I'd not realised that the Daltons were based upon a real-life gang until I read this (although they weren't all brothers) and that their depiction here, and the story's outcome, resulted in the creation of a second gang of Daltons – their equally despicable cousins. But that's what I've always enjoyed about Lucky Luke, in that it often blends real life events and people into the stories so offering a way in to discover more about the period.
Originally from 1954, this is a very early Lucky Luke tale (actually it's two) but it's still fresh and funny, although the second story does feature Luke teaching someone a lesson by making them think they're about to be hanged which I very much doubt would make it past an editor or publisher today. It is, after all, playful, just a little out of step with modern sensibilities.
As for the main Dalton tale, we get to find out just what all the fuss was about. It's clear to see why they've become such a popular staple of the Lucky Luke books, even though this is in fact a different group of four. They don't bicker in quite the same way, and all are pretty much indistinguishable character-wise, but the brilliantly conceived height gag works a treat from the word go.
They're a relentless band of crooks robbing every bank in sight, but once Lucky Luke is on their trail the outcome is inevitable – they're going to have met their match, so even a dash to Kansas where they think they'll be unknown proves fruitless. Incidentally, there's a lovely gag played out about some nifty plastic surgery that had me grinning.
I'm glad that Cinebook aren't neglecting these earlier stories and it makes complete sense to stagger them amongst the more contemporary and the classic Goscinny and Morris run. I'm also pleased to see that are still many Lucky Lukes to come.
And if you enjoyed that: Better snap up volume 48