By Keri Johnson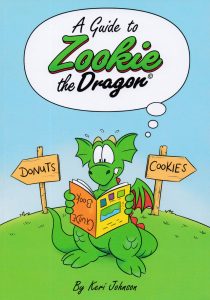 Published by Keri Johnson
It's always encouraging to learn of someone who is making a success of getting their cartoons noticed. With so few outlets taking cartoons on it gets harder by the year. So the obvious place to run them is on the internet, but building that audience is a difficult and time-consuming endeavour. However, Cartoonist Club of Great Britain member Keri Johnson has done just that with her Zookie The Dragon webcomic, and to sit alongside it she has launched a paperback guide.
The guide comprises original writing, fact files and creative secrets, and even some tips on how to draw Zookie for yourself.
Keri's one of the precious few who is managing to make headway with cartoons online thanks to her tenacity and her fun-filled strip. You can find out more about Zookie and order your copy of the guide at www.zookiecartoons.com
And if you liked that: There's a paperback collection of Zookie strips to enjoy too.