By Batem & Yann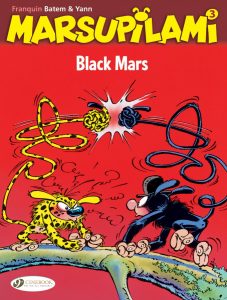 Publisher: Cinebook
ISBN: 9781849184182
These books are proving a lot of fun, largely helped by Batem's art style that gives a healthy nod to Franquin. The Marsupilami of note may be the titular character but the stories are very much set in the world surrounding him rather than focusing on him himself. That doesn't mean he doesn't get his turn in the spotlight, but, like in this case, the story is driven by a different character… Who just so happens to also be a Marsupilami.
Stranded off of the coast of Palombia a ship is at anchor as it attempts hasty repairs. On board is a live cargo of circus performers and animals, although one of them is strikingly similar to an animal we know. However this on has black rather than speckled fur. This Marsupilami is called Black Mars and he's the performing partner of a clown who's orchestrated this breakdown to give the pair of them the chance to make a break for the rainforest. But naturally things never go quite as they're planned. Before long the clown is injured and Mars is lost in unfamiliar territory. To compound matters, a major road is being driven through the heart of the rainforest, disturbing the wildlife and putting many in danger. Fortunately there is help at hand but not before two Marsulilami's come to blows.
Packed full of gags with a visual dynamic that exhales humour, the story of Black Mars has plenty to smile about. From befuddled natives to unscrupulous corporate players, absurd animals and the amazing uses of piranha, there's lots to smile about. You don't even need to be reading, or have read, Spirou and Fantasio to enjoy it (although don't deny yourself that pleasure). Lovingly made and excellently executed, and one for all ages too.
And if you liked that: There's a fourth book coming soon (can't wait)