By Tim Harries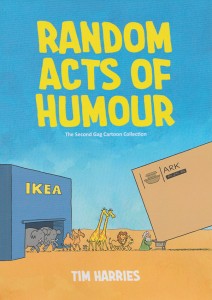 Publisher: Tim Harries
I need to declare an interest and say that I know Tim reasonably well, so in the spirit of balance this will not be a gushing review of his immense talent, gift for humour or his astounding ability to produce quality gag after quality gag. That would be easy, and, of course, be doing you all a disservice.
So I've ignored all of that and will instead focus on the negative points of this second, and rather bountiful collection of gag cartoons, many of which are reproduced in glorious full colour to enhance the mirth.
Tim will be so embarrassed when he realises, but I couldn't help note that there's a cartoon where a dinosaur has been drawn with a dragon's tail. Don't let it put you off.
And if you liked that: More books available from www.timharries.co.uk