By The Etherington Brothers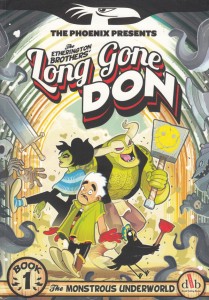 Publisher: David Fickling Books
ISBN: 9781910200049
Death. It comes to us all. But a sad outcome indeed when you're still a child and all you're trying to do is enjoy your soup. When Don Skelton falls victim to an elaborate chain of events that ends with his demise he finds himself in a bizarre afterlife of weird creatures, strange demons and an intolerable dictator that rules over them all in the city of Broilerdoom.
Don swiftly makes friends with a crow called Castanet who acts as a guide but doesn't quite keep them out of trouble, and before they know it they're involved in an underground movement to change the way Broilerdoom is run.
Written by Robin Etherington and drawn by the exceptionally gifted Lorenzo Etherington, this is the cherry on the cake of the Phoenix's many excellent strips. Lorenzo's art is utterly stupendous, from the painted backgrounds to the animated and wonderfully characters. There's a clear nod to Goscinny and Uderzo, and that's no bad thing at all. It's a book that could easily be reproduced at twice the dimensions, there's so much to take in and enjoy.
Funny and fantastic throughout.
And if you liked that: Check out Lorenzo Etherington's Von Doogan, also from the pages of the Phoenix over at the Phoenix bookshop at www.thephoenixcomic.co.uk Quote the code FIRST15OFF you'll get a massive 15% off!