By Van Hamme, Aubin and Schréder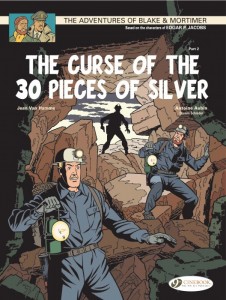 Publisher: Cinebook
ISBN: 9781849181303
I'm not going to say too much about this one as it's the concluding part and anything I reveal could spoil it if you've not read part one. However, suffice to say that Van Hamme pulls off another superb script that feels both contemporary and respectful to the strip's history. It most certainly does tread similar ground to a certain famous cinematic archaeologist, but does so well within the already established framework os a Blake and Mortimer adventure.
Different artists tackle this half of the tale, but because their aim is to replicate Edgar P Jacobs original style you wouldn't really know, which in a way is unfortunate, but also an absolute triumph for their skill and precision. A stunning job.
So for a grand mix of 20th century history, biblical mythology, and cast iron adventure, you won't find much better than this.
And if you liked that: Plenty more Blake & Mortimer at www.cinebook.com