By Alan Langford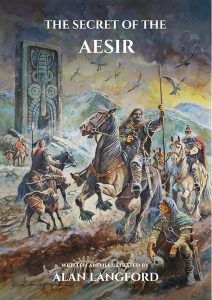 Publisher: Alan Langford
ISBN: 9781916484610
In Scandinavia of the 8th Century, a group of Vikings is taking part in an annual trek to pay homage to Mjolnir, the Norse God of Thunder's hammer. This is a humongous artifact in the bleak landscape, continually drawing down lightning from the heavens. 
The warriors are accompanied by two Christian priests, one of which seeks strength from his god to defy this pagan monstrosity, while the other is more pragmatic and curious. When a mysterious vision appears before Mjolnir the Viking's shaman decrees that a handful of warriors must advance into the wasteland beyond the Needle of Odin to discover what it means. This requires crossing a harsh landscape and through the territories of the strange people that live there; it's not a task that a Viking warrior is going to shrink from.
What they find in the far north is utterly beyond their comprehension. Being neither man-made nor of the gods, it will take the pragmatic priest to finally understand it.
Beautifully illustrated throughout in monochrome, Alan Langford uses his life-long love of the medium to craft his own tale that would sit very comfortably in the 2000AD comics I enjoyed in the 1980s. And Alan had pedigree there, not least a Tharg's Future Shock story written by Alan Moore. I've always loved how a good comic story can draw elements from history, science, and mythology, and it's clear that Alan feels the same as he's interwoven those threads to build a compelling narrative. He's also an exceptional equestrian artist, so having his Vikings mounted means there are dozens of striking panels that channel a Frank Frazetta vibe.
It's moody and atmospheric, and oddly it remains grounded in reality despite its science fiction leanings. Alan knows just how far to stray into the fantastic to give his tale wonder and awe. We have an inclination of where it's heading early on, but because we're companions of the Vikings, seeing the world as they see it, we can revel in their understanding  – or lack of – as the narrative puts down its layers.
To say that this would have been right at home in a 1980s' comic doesn't mean that this book feels in any way dated. Rather, it captures a spirit that I've rarely seen since, where the artist was given the time he needed to make the very best of the page, and the story was allowed to unfold at a pace that suited the telling. For me, it's captured a sense of nostalgia that is very welcome indeed.
It's 132 lovingly crafted pages that have taken three years to complete. You'll appreciate every minute of that time as you're absorbed by the pages, the characters, and the answers they seek.
And if you liked that: You can order your copy direct from Alan Langford at thesecretoftheaesir.com and littleknollpress.com