By Rodolphe & Leo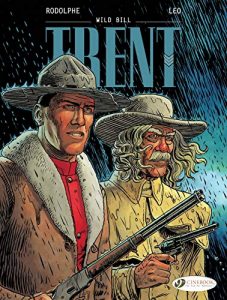 Publisher: Cinebook
ISBN: 9781849183956
Very pleased to see there's a new Trent book, and it's a very good one at that. Trent is doing his duty as a Mountie to deliver a low rate criminal to justice to the big city. This means several days travel across the Canadian wilderness, stopping off at small townships along the way. Nothing too unusual or out of the ordinary about that, until at one town he's offered $500 to let his prisoner go. Being the upstanding officer of the law that he is Trent sends the ne'er-do-well away with a flea in his ear. The prisoner seems unmoved by the affair, and for now it seems it must remain a mystery. Meanwhile, in the local hotel a fabled fast-draw gunman, Will Bill Turkey, now long in the tooth but certainly still trading on his past success, is celebrating his upcoming wedding to which he's heading. The whole bar is buzzing thanks to his generosity, but it's a hubbub Trent needs no part of, so he beds down instead in the sheriff's office.
By the next day, when Wild Bill is prompted to awaken, he observes Trent and his prisoner leaving, shortly followed by a small band of horsemen led by the man who had attempted the bribe. It sets the scene for the inevitable clash as paths cross and motives are revealed. 
From the outset of the story, we're shown Wild Bill's anxiety dream of finally meeting the gunman who is quicker than he is, keen to make a name for himself as the slayer of Wild Bill. This idea is returned to again and again throughout the narrative, steering your expectations towards the tragic conclusion. It's a great piece of writing that is resolved perfectly and unexpectedly.
Trent himself is a stoic soul, and a man motivated by duty above all else. He could be a dry, dull character, but the writing serves him well and Leo's absorbing artwork gives him the humanity that does the rest. He's a little world-weary, infused with a large regret and unable to make the obvious step he needs to make to find happiness. In short, he's a person that's easy to like and identify with, so his stories amongst the vastness of the North American far north become all the more captivating. 
Trent is an exceptional comic series, cinematic in scope, by two of the finest creators. In Wild Bill all those talents are on display, and a further nod must be given to Marie-Paule Alluard for some exceptional colour work. Without a doubt one of the best comic series available at present.
And if you liked that: You should definitely be reading Aldebaran.