By Rich Sparks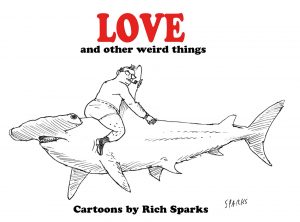 Publisher: idwpublishing.com
ISBN: 9781684055791
Some of you may know Rich Sparks if you follow The New Yorker in one of its many forms, but he's cropped up in many other places too. His cartoons are curiously odd, a little dark, acerbic and occasionally acidic. Dabbling in the slightly more unsavoury and unwholesome areas of human existence allows him to tinker with subject matter that's been relatively untouched. What's delivered is a refreshing and genuinely funny assortment.
There are a lot of buttocks, lots of straight-laced middle-aged men stepping beyond the ordinary, and oodles of rigorous absurdity. Take Cleaned Up, a cartoon featuring Charles Dickens, William Shakespeare and Edgar Allan Poe all clean-shaven, with combed hair and sporting a suit and tie. Daft, yet oddly pleasing. In Prometheus Give Fire To Man, he's offering the use of his lighter to a couple of smokers. And in Stereotyping there's a guy using two typewriters at once. Sparks clearly loves wordplay and his sketchy, scratchy cartoons give the results a sharper edge.
A top-drawer cartoon collection and a welcome lift in these troubled times.
And if you liked that: Try Digesting The Child Within by John Callahan