By Hannah Eaton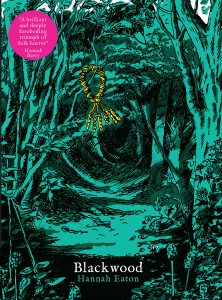 Publisher: Myriad Editions
ISBN: 9781908434715
There's something inherently captivating about the sleepy British village. Many of us dream of escaping there, or live somewhere like it already. Chocolate box cottages, village greens, pretty churches, and hundreds of years of history to call upon. Inevitably they have their own traditions, folk tales and darker sides too, and this aspect has equal appeal. It's what 60s' shows like The Avengers were built upon, why the Wicker Man still captivates and even why Radiohead's Burn The Witch video draws you in. The possibility of a creepier, more unsettling side to Britain is just too irresistible to pass up.
Hannah Eaton jumps in with both feet with her book Blackwood. A community with many secrets, all slowly revealed as the tale unfolds. At its heart are two murders, 65 years apart. However, they're not the only deaths, or misery, to befall the place. We're introduced to Peg, clearly challenged by the early stages of dementia, who somehow is the connecting piece between the murders. It's around her, and her family, that the main narrative revolves. There are other characters too, from the town's ealdors and their rituals, to the investigating policemen across two eras, plus the innocents caught up in the greater conspiracy. It's a large cast list to keep track of, but Eaton guides you through and delivers with the conclusion.
The book opens with a wedding and you're quickly unsettled by the off-kilter proceedings. Normal enough on the face of it, but not quite right. This is highlighted by the arrival of guests from the nearby town who mistakenly visit the wrong church. But for all the strange goings-on, it's the character-driven narrative that sells the book to the reader. Regardless of where and how you live, your everyday life becomes your normal, and whatever struggles you're presented with they still boil down to family and friendship, right and wrong, justice and injustice. Following how the characters navigate these problems is what keeps you turning the pages.
Eaton makes no bones about being inspired by The Wicker Man and many other British stories and folk tales. No doubt the corn dollies and Black Dog will be familiar to you. It reminded me much of another great comic series, Strangehaven, but where Blackwood takes you is somewhere very much of Eaton's own devising. Her illustrative style, using pencil and rounded panels, evokes a dreamlike quality. It's softer and somehow reassuring, making the harsher, blunter aspects of the story more visceral.
Blackwood might be a village of the rural British countryside, but much of its bleaker moments and darker problems are those common to everyone everywhere. When the superstition is stripped back the real horror is there to see.
This is only Hannah Eaton's second book (I'll be looking out for her first, Naming Monsters) and yet it thrums with storytelling confidence, great dialogue and fully-rounded characters. She's a welcome addition to British comics' talent and this book is sure to get her noticed internationally. I hope we see plenty more from her.
And if you liked that: See if you can track down Strangehaven by Gary Spencer Millidge