By Norm Konyu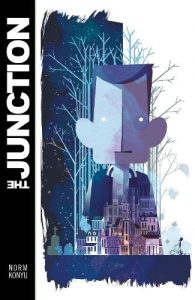 Publisher: Norm Konyu
ISBN: 9781527261136
Lucas disappeared when he was eleven years old. A dozen years later he turns up in his home town and hasn't aged a day. His aunt and uncle, the police, and a psychiatrist all attempt to get to the bottom of where Lucas has been and how it can be that he's still eleven. But Lucas is withdrawn and deeply troubled, and so piecing together what's happened is going to take patience and an open mind.
The Junction is a unique book, with a striking cartoon style that owes a lot to the author's design skills. Interestingly, the characters' minimalistic presentation means their features betray very little. This forces the reader to delve deeper into their own responses. It creates a strange and eerie atmosphere that perfectly fits the book's mood.
It tentatively dances on the fringes of horror, bear-hug's the mysterious, and successfully steers around any schmaltz that it could so have easily fallen in to.
As Norm Konyu's first graphic novel, The Junction is an outstanding piece of work and it deserves much more attention than it's had to date.
And if you liked that: Try Over The Wall by Peter Wartman.