By Mark Warby
"Try not to move – we don't want to have to nail your feet to the ground," I was told, one day last summer. This wasn't a threat of imminent torture, though – merely a joke to help put me at ease, when I found myself in front of the TV cameras at a recording of the BBC Antiques Roadshow.
I had been to a couple of Roadshow recordings before, but only as a spectator.
Then, early last year, I saw that the BBC's flagship Antiques show was coming to Compton Verney Art Gallery in Warwickshire on July 2, to film for their new series.
"Share a story about your special items," it said on the show's website – so I contacted them about my Bruce Bairnsfather collection.
Coincidentally, before WWI, Bairnsfather had known Lord Willoughby de Broke (Compton Verney's then owner) and other members of the Verney family well and was a frequent visitor to the house.
One item in my collection has a direct connection to the Verney family, and as the Roadshow always seem to like pieces linked to their venues, I thought this might engage their interest.
I heard nothing for some weeks, but a few days before their visit to Compton Verney a researcher called me to talk about my collection. He asked me to take a few items along on the day and said I could potentially be filmed. I was even emailed an Appointment Card so that I wouldn't have to queue.
I arrived at Compton Verney at 9.30am, as arranged, and no sooner had I waved my pass in front of one of the stewards than I was shown to the 'appointments waiting area' and introduced to Clive Farahar, the Roadshow's Books and Manuscripts expert, who chatted to me to get some background, while looking through the items I had taken along to select three or four for filming.
It was an almost brutal process. Clive would get just a glimpse of one of my prized original drawings or another treasured item as I started to show him, and immediately say "no, we don't want that" or "no, that's no good", eliminating most of the things I had with me in a flash.
But the minute I pulled out a framed original 1917 theatre poster by Bairnsfather, Clive's eyes lit up and he whisked it away to show to one of the production team.
A couple of minutes later the same happened when I showed him a 16" tall Old Bill doll. He asked what else I had, and straightaway an original published Fragment from France cartoon from 1915, and an album containing a number of original sketches by Bairnsfather, sent home from the front in 1914 to Clare Verney, cousin of Lord Willoughby de Broke, were added to Clive's selection.
I was then taken to the "green room" where the items I had taken along were left in a secure area, and a member of the production team talked me through how things worked with the filming process.
I completed the necessary paperwork and they gave me a timeslot for filming, which was around midday. This was still a couple of hours off, so I was free to go and enjoy soaking up the atmosphere of the Roadshow and do a bit of "expert-spotting" – as well as catching a very fleeting glimpse of Fiona Bruce.
Mrs Warby and her mum had come along with me, and while we were looking around and taking everything in, they spotted two empty deckchairs branded up with the Antiques Roadshow logo and decided to take a few minutes' rest.
They had barely sat down when a lady from the BBC came over and asked if we'd mind if she took some photos of Mrs W and her mum in the deckchairs (from behind, so the AR logo was visible). We agreed, thinking she was maybe taking pictures to post online (more on that, later).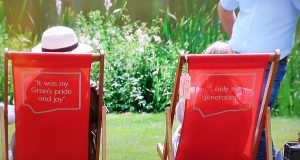 At the allotted time we made our way back to the "Green Room". While we were sat waiting, we noticed Clive Farahar come in, chatting to fellow Roadshow expert Hilary Kay. They headed straight for the secure area, where Clive proceeded to take out my Old Bill doll and show him to Hilary, evidently to ask her opinion on him.
A few minutes later we saw Hilary again, when she came in to see the make-up girls. Not long after this it was my turn, and I went through the surreal experience of being "made up" – and in the very same chair which Hilary Kay had just been sat!
The items I had taken along were now collected and whisked away to where I was to be filmed.
As I was escorted to the 'set' I was asked if I had ever been on TV before. I recounted the tale of having been on BBC Midlands Today back in December 1964 with my mother and brothers when we were just three days old, due to being triplets born on Christmas Eve.
I decided not to mention my much more recent, if fleeting, appearances on Central News, Midlands Today and BBC Breakfast, as well as BBC local radio.
The spot where I was to face the cameras was being used for filming throughout the day, and a good-sized crowd had already gathered to watch. While I was being "miked up" (in the privacy of an Antiques Roadshow 'gazebo' – all very glamorous!) the 'set' was staged, with my framed drawing and poster on easels, the Old Bill doll 'perched' alongside the poster and the album of sketches on a tall table in front of them.
The floor manager explained what was involved in the filming, before having a final word with me and Clive Farahar about the order they wanted things to run in. Then it was "lights, camera – action!"
It all went by in a bit of a blur. We had to do a few re-takes where the Director wasn't quite happy with something, and at one point the floor manager made the comment mentioned at the start of this article, about nailing my feet to the ground!
Then it was all over; Clive Farahar thanked me, and said he thought the piece we had filmed would make a good segment for the programme.
I retrieved all my items and went off to let the whole experience sink in. As I was mulling it all over, a couple sat nearby turned to me and said they had just watched me being filmed and thought I did very well and looked forward to seeing it on TV. Nice to know I already have some fans!
A couple of days later I spoke to a member of the production team, who seemed quite optimistic that the piece I filmed would be in one of the two programmes they were putting together from Compton Verney.
The new series of the Antiques Roadshow started in September, and the first programme from Compton Verney aired on BBC1 on 24 October. My piece with Clive Farahar didn't make it into that episode, but as we were watching, we did get a little surprise.
Between valuations the cameras were panning around the crowds and getting some general views of the day. Suddenly the back of the two deck chairs mentioned earlier appeared on the screen, with Mrs Warby and her mum comfortably ensconced, and in the background yours truly (from the neck down – my head evidently out of camera shot), stood talking to them!
Although I'm still not certain I'll be in the second programme from Compton Verney, I signed all the necessary paperwork and release forms, so fingers crossed I won't end up on the cutting room floor. I've read that the Antiques Roadshow returns to BBC1 in March, so hopefully I won't have to wait too long to find out.
And the big question – how much did Clive Farahar value my items at? Well, I don't want to spoil the surprise, so you'll have to watch the show to find out.